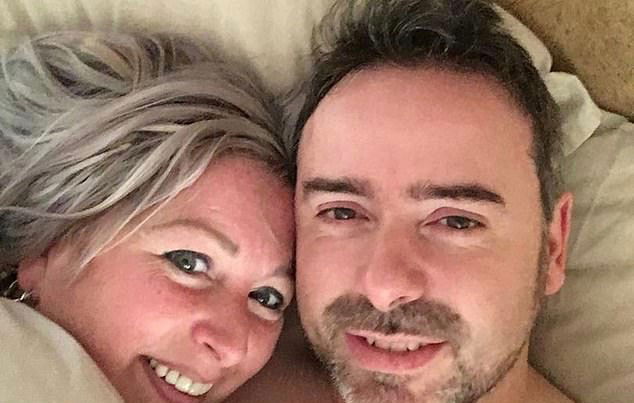 Gavin Innes, 46, claimed his ex-girlfriend Gillian Bayford – who scooped the £148million jackpot on EuroMillions in 2012 –  pushed him during an argument. 
He also boasted to friends that Kirkcaldy-born Bayford was his 'pension fund' and conducted an online campaign of 'venom', Dundee Sheriff Court was told.
Bayford, 47, had been due to face trial accused of repeatedly battering Mr Innes while they were dating.
But after a morning of discussions between her lawyers and prosecutors, the Crown accepted her plea of guilty to the lesser charge of behaving threateningly and abusively towards him, a domestically aggravated statutory breach of the peace.
The court heard that on the first occasion Mr Innes had received a message from Bayford asking her to come to her then home in the village of Auchterhouse, Angus, in 2017.
There, an argument developed after Bayford accused Mr Innes of delegating the care of her children – aged 11 and 13 – to one of her friends' sons, who was intoxicated, when he was supposed to have been looking after them himself.
Gavin Burton, prosecuting, said: 'Mr Innes sat on the stairs. He was asked to leave and the accused took hold of him and struggled with him.'
A friend of Bayford's then drove Mr Innes to Mr Innes's sister's house.
On the second occasion, text messages were exchanged between them and they agreed to meet.
Bayford drove to Dundee and parked in the street near Mr Innes's sister's house.
Mr Innes got into her 4×4, where they became involved in argument about what had happened four days earlier.
Mr Burton said: 'She then lent over, opened the vehicle door, and pushed him. She didn't push him out of the car. She simply pushed him.'
Murdo MacLeod QC, defending, said it was 'scarcely possible to imagine two more trivial linked incidents', and said Bayford had reacted after hearing Mr Innes had described her as 'his pension fund'.
He said Bayford's life had changed when she won the lottery in 2012.