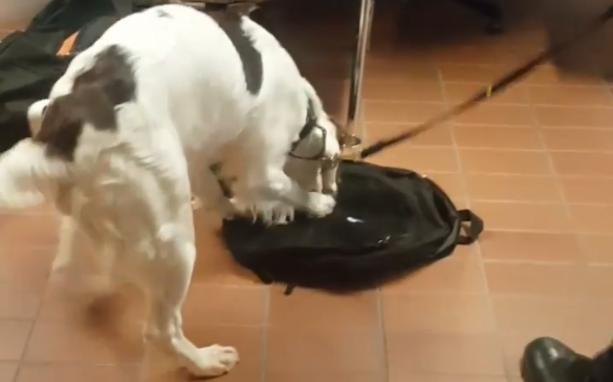 Recently several Swedish doping cases have been revealed. The cheating athletes might now get an even tougher time trying to get away with taking performance-enhancing substances, as the world's first doping dog, Molly, enters the field in a major way. 
During the last two years, Molly has been busy tracking down illicit doping drugs and catching cheating athletes in the act. Yesterday, Molly monitored the 15,800 skiers performing in the 90-kilometer long yearly ski race Vasaloppet. 
She is trained by the Swedish Customs and is now a huge asset in the hunt for doping substances.
"Molly can mark for doping drugs in bags as well as feel, through sweat, when a person has been doped", says Joanna Sjöö, who works for the Swedish Anti-Doping Agency. Johanna is also Molly's dog handler and breeder. The procedure is simple. When Molly finds doping drugs, she marks, and then the Swedish Anti-Doping Agency performs a test.
Joanna says that Molly has been successful on several occasions with making markings that have later resulted in positive doping test results.
"Molly leads the way in teaching us where to focus our efforts on doping tests and how to best use our resources." Johanna continues.
Today, Molly is the only dog of its kind ​​in the world.
"With her track record, it is strange that there are no more doping dogs in the world. She is unique. The Swedish Anti-Doping Agency has really been thinking outside the box here. I know that more countries are interested and that there are more dogs being trained, but not in Sweden. It is very difficult to get really good service dogs in this area, which meet all the requirements. We were lucky to get her." Johanna explains.
Molly was invited by the Vasaloppet organizers, who wanted to show Sweden that their competition is doping-free.
"We are here to raise awareness about our work. Molly has also helped to create good relationships between The Swedish Anti-Doping Agency and the athletes here, as they often come up to us to visit Molly and ask questions. Just what we want." Johanna concludes.