MOJACAR'S El Bandido Runners were out in force again at the weekend, with 18 members taking taking part in the VI Cross Mar de Pulpi five-kilometre and 10-kilometres races in San Juan de los Terreros on Saturday.
There was a sea of El Bandido colours blue and orange among the 162 finishers on a sunny but windy day for the two-lap and four-lap circuits.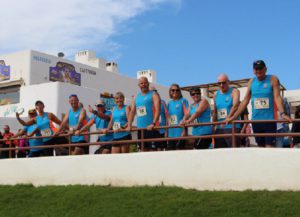 El Bandidos took five podium places with age group trophies for Kirsty Ratcliffe (first Vet C), Jan Murton and Karen Ayers (first and second in Vet E respectively), Steve Murton and Paul Darcy(also first and second in Vet E respectively) and Duncan Longley (third Vet F).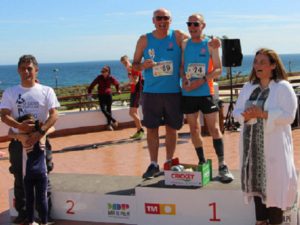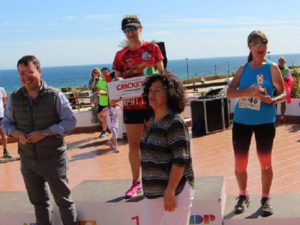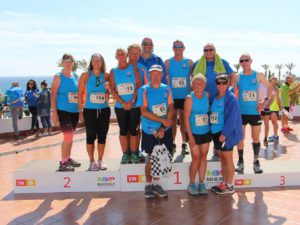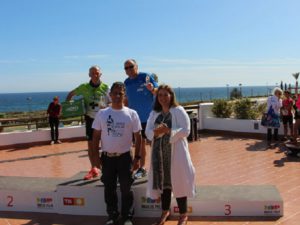 In addition to a trophy, the runners coming first were each presented with a large box of fresh vegetables.
The El Bandido members reported it was a very well-organised event, with friendly support and encouragement from runners and marshals on the course, and especially from their own supporters, who were cheering them on and taking photos.
Every runner received a goody bag with a commemorative race T-shirt, and afterwards there was cold beer and paella for everyone.
For the full event results see https://www.alcanzatumeta.es/vi-cross-mar-de-pulpi/
El Bandido Runners is a local group, set up by Ironman Kevin Rowe in June 2018. The group started with a small number of regulars and has grown with runners, joggers and walkers, who are permanent residents, regular visitors and holidaymakers, covering the five-kilometre Mojacar Playa promenade.
The group welcomes all ages, nationalities and speeds. If you are interested in joining them go along on Wednesday and/or Saturday at 9am from October to April and at 8am from May to September.
The meeting point is opposite the Best Indalo Hotel on the Paseo del Mediterraneo, apart from on the first Saturday of each month when they meet at the Red Cross roundabout end of the promenade to be nearer to the monthly post-run breakfast chosen cafe.
The group is particularly keen to encourage runners and walkers to go along this coming Saturday March 7 to mark International Women's Day, which falls on Sunday. They will meet at the Red Cross roundabout end of the promenade, and are hoping to break the record attendance of 43 runners and walkers on New Year's Day.
For more information about El Bandido Runners contact Kevin on [email protected] or follow them on Facebook https://www.facebook.com/pg/elbandidorunners.