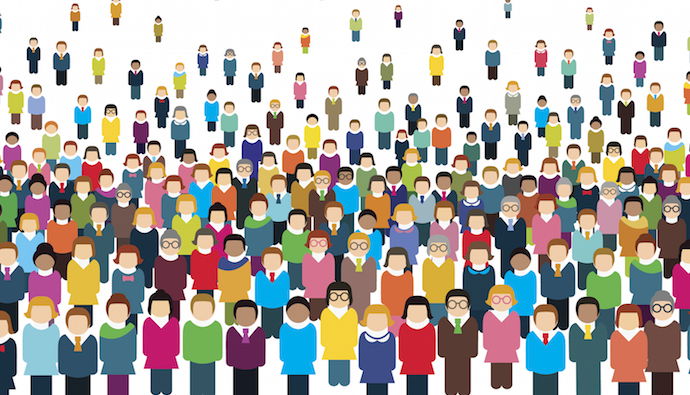 According to the United Nations Europe's population is shrinking and will continue to decrease.
In October 2011, the global population was estimated to be 7 billion.
A global movement "7 Billion Actions" was launched to mark this milestone.
The world's population is expected to increase by 2 billion persons in the next 30 years, from 7.7 billion currently to 9.7 billion in 2050.
This dramatic growth has been driven largely by increasing numbers of people surviving to reproductive age, and has been accompanied by major changes in fertility rates, increasing urbanization and accelerating migration.
These trends will have far-reaching implications for generations to come.
While China and India is the most populated counties and Africa is the fastest growing continent, Europe is seeing a decrease in population, according the United Nations reports.
In sharp contrast, the populations of 55 countries or areas in the world are expected to decrease by 2050, of which 26 may see a reduction of at least ten per cent.
Several countries are expected to see their populations decline by more than 15 per cent by 2050, including Bosnia and Herzegovina, Bulgaria, Croatia, Hungary, Japan, Latvia, Lithuania, Republic of Moldova, Romania, Serbia, and Ukraine.
Fertility in all European countries is now below the level required for full replacement of the population in the long run (around 2.1 children per woman), and in the majority of cases, fertility has been below the replacement level for several decades.
Future population growth is highly dependent on the path that future fertility will take.
According to the World Population Prospects, global fertility is projected to fall from 2.5 children per woman in 2019 to 2.2 in 2050.
Overall, significant gains in life expectancy have been achieved in recent years.
Globally, life expectancy at birth is expected to rise from 72.6 years in 2019 to 77.1 years in 2050.
While considerable progress has been made in closing the longevity differential between countries, large gaps remain.
In 2019, life expectancy at birth in the least developed countries lags 7.4 years behind the global average, due largely to persistently high levels of child and maternal mortality, as well as violence, conflict and the continuing impact of the HIV epidemic.
International migration is a much smaller component of population change than births or deaths.
However, in some countries and areas the impact of migration on population size is significant, namely in countries that send or receive large numbers of economic migrants and those affected by refugee flows.
Between 2010 and 2020, fourteen countries or areas will see a net inflow of more than one million migrants, while ten countries will see a net outflow of similar magnitude.