With speculation rife in Spain as Malaga CF float in administration, seeking new ownership, with talks in the Spanish football world of Malaysian Billionaire Vincent Tan allegedly looking to make bid for Malaga CF, A Cardiff City die hard football fan has issued a warning to all Malaga supporters.
Based in Spain himself on the island of Mallorca, Millionaire Annis Abraham contacted the Euro Weekly News this morning with a warning message to all Malaga fans.
Abraham 54 years old has been a season ticket holder consequently for 47 years and still flies back to the Welsh capital for the majority of Cardiff City matches.
As well as being a loyal fan of his beloved club he's also a small shareholder of the club.
He told the Euro Weekly News: " Malaga fans be aware be very aware, Vincent Tan is the man who broke our football clubs hearts, he changed our colours and he only reverted back to blue for financial reasons and he's never been interested since, many fans walked away and have never returned, whilst those who remain are disheartened too, take Tuesday against Nottingham Forrest, whilst they announced 21,000 attendance as they can due to season ticket sales, only around 14,000 turned up, demonstrating how many season ticket holders are fed up of how he's running our club, he hasn't even been to one of our games for ages in fact all season whilst being in London on a regular basis".
" That man has ripped the soul out of our club and made it completely soulless, we used to be a passionate club, that's all been washed away by Vincent Tan" he continued.
" After overspending massively in the past as he played with our club and bought glory only to blow it twice with two straight relegations, we have no funds available for decent players and a tin pot bargain basement manager as he claws back the money he over spent – I'm aware of two bids for the Club that he accepted, one he accepted was for 30 million but then he found out previous owner Sam Hammam was behind it so he pulled out as they hate each other, the other was 50 million by Americans but after due diligence they pulled out"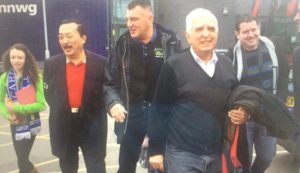 " Sam is currently in a legal battle with the Club as he was ousted from the football Club despite agreeing part of his settlement,  he was be a life president of the club but after the deal was done Tan soon revoked it, the man's brutal" continued Abraham.
" He surrounds himself with puppets and acts like a dictator in the directors box In my opinion, it made me so sad to see long life fan Steve Borley and former Chairman sat in the Directors box dressed in coat and red scarf when he changed the colours, doing as he was told – but that's how Tan controls people"
" Malaga fans need to be very careful, very careful indeed but knowing Spanish football fans as I do they would soon run him out of town if he started his nonsense with their club"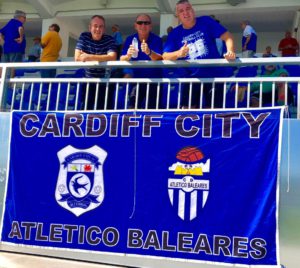 " I know the mentality of Spanish fans and they won't accept his nonsense, he divided the Cardiff Fan base as it was too soft and smelt the glory and the money, many only came to their senses later but we still remain divided as a club"
Annis went onto explain how he had to organise full on demonstrations against Tan.
" We had enough, we wanted our club back and thousands of us demonstrated, we didn't get our club back but we did force the change back to our original colours eventually but I would expect Spanish hard core fans to react quicker than we did"
" He shouldn't in my opinion be allowed near another football club after the way he has destroyed mine and Malaga fans need to look at what he did to our club rather than just see a saviour with plenty of Euros " finalised Abraham.
Annis is the author of 7 books many covering the ups and downs with one aptly named " Shattered dreams"