Janet Street-Porter shocked her Loose Women pals yesterday after she revealed she used to have sex with one of her lodgers instead of charging him rent.
All he had to do as long as he also supplied her with crumpets…
73-year-old Janet left her fellow TV show hosts Coleen Nolan, Andrea McLean, and Brenda Edwards absolutely gob smacked during a chat on the show where they talked about taking on a lodger to combat loneliness.
Janet, who has tied the knot five times, said: 'I'd have male lodgers between divorces. Not at the same time, one after the other. 'And I've got to admit… I did have sex with one of my lodgers because I didn't charge him rent.' 'So he was a lodger with benefits?' Brenda laughed. 'Exactly. The only thing I asked of him was that he always had some crumpets in the fridge"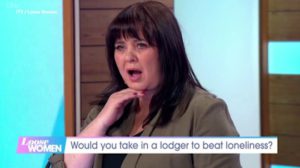 Fellow panelist Coleen replied: 'So you asked for a bit of crumpet and he provided it?'
Host Andrea then tried to settle down the situation as she said to the audience: 'We have to stress this was a mutually agreeable arrangement and he was fine with it all.' Not thinking about what she had said, Janet apologised. 'Oh my goodness, I'm so sorry if I've said something offensive,' shew gasped.
No, no, no – just making sure he was alright with all the arrangements,' Andrea responded. Loose Women fans quickly took to social media to share their thoughts, and naturally found her confession hilarious as they tweeted amongst themselves.