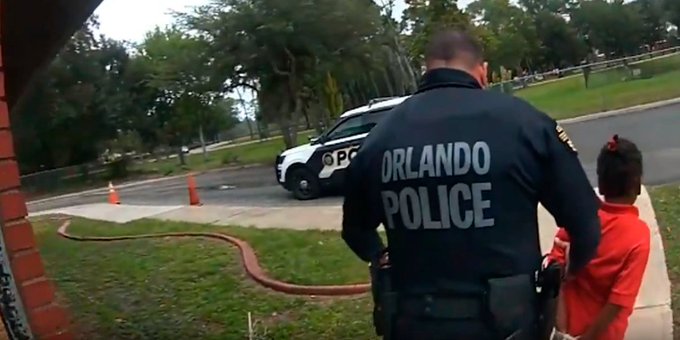 A US police officer's body camera recorded the moment he arrested a six-year-old girl that was crying and begging officers to not arrest her, as they fastened zip ties around her wrists.
Kaia Rolle's family shared a video that shows the young girl being arrested in September for kicking staff members at her school in Orlando, Florida. Kaia can be heard asking 'what are those for?' when officers reveal the zip ties.
Police officer, Dennis Turner, responds with 'They're for you.' Another officer tightens the zip ties around her wrist which causes her to start crying.
WATCH: Florida cops arrest sobbing 6-year-old at school




More from @joshuarhett https://t.co/XewEffHTUx pic.twitter.com/BlngX8jHwQ

— Jon Levine (@LevineJonathan) February 25, 2020



Orlando police chief Orlando Rolon said that Turner did not follow department policy in getting approval of a watch commander to arrest someone under the age of 12.
During the incident, Turner returned to the office to talk with school administrators, who appear dismayed by what they have witnessed. He tells them that the juvenile detention centre where Kaia is headed is 'not like you think.'
Turner also continued, boasting how he has 6,000 arrests – including a 7-year-old. Once finding out Kaia is six, he cheerfully says 'now she has broken the record.'
Kaia's grandmother told police that her temper was caused by a side effect of sleep apnoea.
An internal investigation is underway after it emerged that Turner didn't follow department policy. As a result, officer Turner was fired shortly after the arrest.