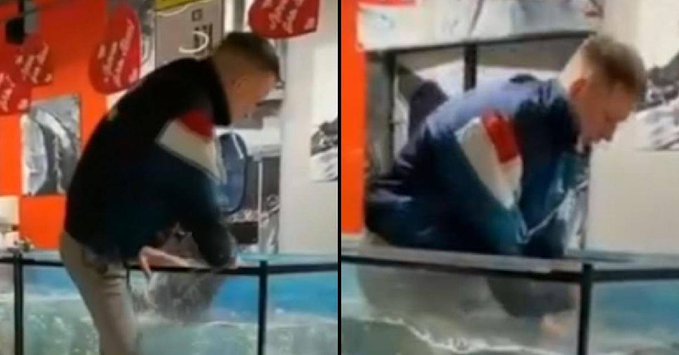 A young man plunged into a fish tank to retrieve an engagement ring after his girlfriend allegedly threw it away after rejecting his proposal.
Footage shows the unnamed man pointing towards the ring which sits at the bottom of the tank in a supermarket in Belarus.
The young man removes his backpack and appears to explain the situation to a member of staff before climbing into the tank fully clothed.
Once successfully in the tank, the 23-year-old puts his head under as he starts scrambling  amongst the fish to find his tossed ring.
It is thought that he had proposed to his girlfriend just moments before the tank dive took place, but things didn't quite go to plan. The woman declined the offer and launched the ring into the tank.
Local media has reported that the man also had to pay a fine due to the bizarre incident. In addition, bosses decided to report him to the authorities.