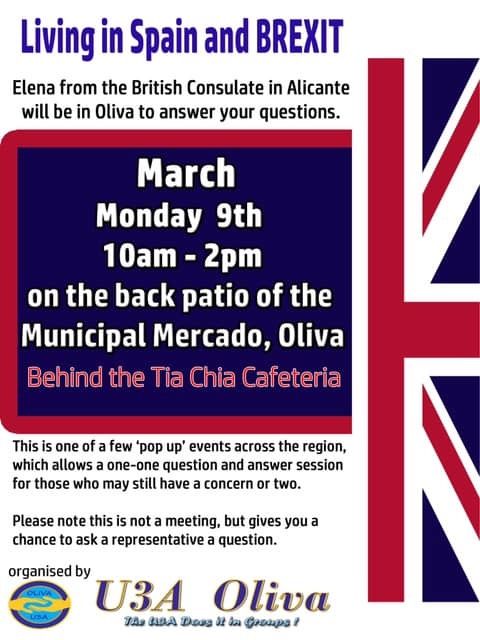 IN response to a request by the British Consulate in Alicante, Oliva U3A has organised a Brexit pop-up event to give members, as well as non-members, the opportunity to ask any relevant questions on a one-to-one basis.
Representative Elena Jurado from the British Consulate will be available to answer specific Brexit concerns, queries or questions.
The event will take place on March 9, between 10am-2pm on the rear patio area of the Mercat Municipal (indoor market) in Oliva, where Elena will be on hand to answer questions to help expats better understand the current situation.
The Oliva U3A would like to thank Andrea and Martin, owners of the Tia Chia cafe, for their support and co-operation in allowing the group to use the venue for the event.
Brexit aside, if you are keen to find out more about the U3A in general, drop by their new 'Find out More' sessions held on Fridays (market days) at 11am in the Tia Chia stall behind the Municipal Market. You can speak to Angela or Sue about the Oliva U3A and enjoy a lovely organic coffee to boot!
Alternatively, check out the website on https://u3aoliva.wildapricot.org/