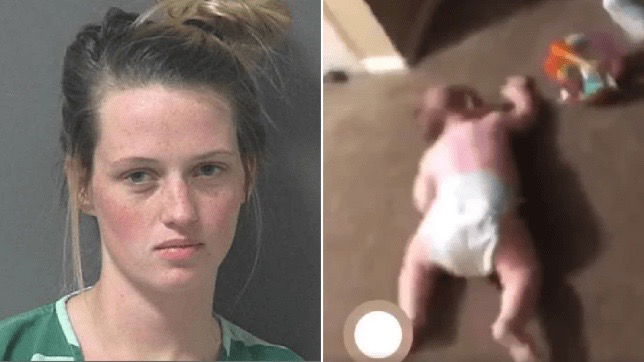 Mother filmed herself violently smacking her baby boy onto the floor during a video chat with the baby's father. 
Hanna Winch, 21, was arrested on Friday in Peru, Indiana after police discovered the video that was posted on social media by the child's grandparents.
Police conducted a welfare check on the child on February 21 after they learned of the video. As they carried out their initial investigation, the video was released on social media, resulting in 'numerous reports' to police and the Indiana Department of Child Services (CPS).
Hannah Winch was booked at the Miami County Jail on the charges of domestic battery and intimidation.
The video has since circulated on social media, but many of the postings have since been taken down. However, the child's grandparents posted the video in an attempt to hold Winch and CPS accountable.
'This is cps at it's best this 10 month old my grandson gets to stay with this piece of work,' the child's grandfather wrote alongside the video, which was posted to a Facebook group.