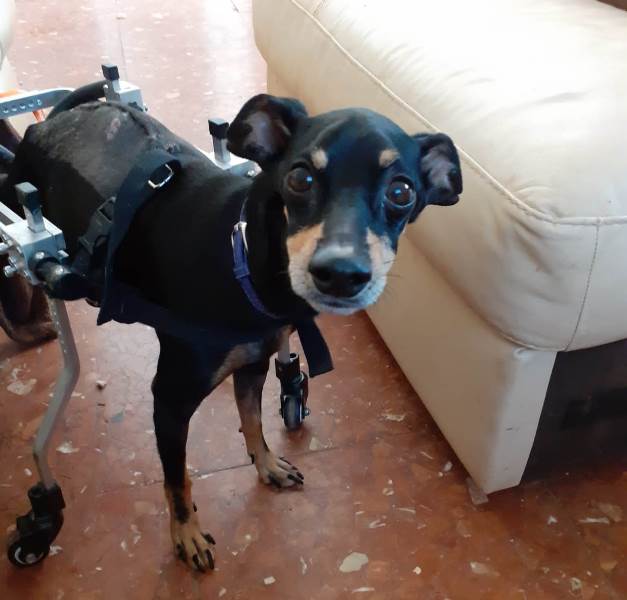 LAST Saturday February 22 at around 8pm, a car sped up to the gate of the Triple A animal sanctuary above La Cañada shopping centre in Marbella and within a very short space of time, a car door opened and closed and the car disappeared.
There were some volunteers still at the compound and by the time that they went to open the gate, all they could see was a crate containing eight tiny puppies (some with umbilical cords still attached) who were literally three or four days old.
At this age they are completely helpless and need to be looked after as they will be missing the warmth of their mother and of course the regular feeds.
Within half an hour three volunteers had been rounded up who were prepared to act as foster families for these poor little orphans but at that age, they could not stay at Triple A as they have to be looked after in people's homes because they need regular attention and feeding.
This is not an unusual occurrence for the volunteers at Triple A but it is not one which is welcomed because the commitment to look after such tiny pups is considerable.
The redoubtable Lily Van Tongeren who is known for her dedication to the charity was one of those who took some of the puppies into her home and they are joining animals with paralysed back legs, one a cat and the other Golfo, a feisty little dog which she is already looking after and giving regular physio.
The problem is that there are simply not enough foster homes available for these innocent little creatures which are regularly abandoned and whilst it is a time consuming and demanding job, it is also very rewarding when you see the animals grow and become independent characters.
Full training in pup fostering will be given to anybody who is prepared to offer their services, but volunteers are also needed to simply help walk dogs and clean cages so if you think that you would like to help email Lily at lily4triplea@gmail.com.
Whilst many councils are doing more than ever to help home abandoned dogs, there is still a constant need for animal charities such as Triple A and others to step in and give cats and dogs a chance of a decent life.