GETTING involved in the Vera and District Lions Club has been a great experience for British expats Chris and Ceri Norman.
Not only are they making a valuable contribution to the Lion's work helping local charities and deserving causes, their responsibilities as the club's press officers "keep our brains active", they told the Euro Weekly News.
Chris and Ceri joined the Lions after selling their home in the UK, packing most of their belongings into storage and setting out in a fully loaded car to start a new life in Spain.
They eventually settled in Arboleas, bought a house and set about making alterations, including the kitchen. That was how they first found out about the Lions and what they do.
Explained Ceri, "We tried to sell the old kitchen and were about to scrap it, when the lady who was helping us design the new layout suggested she sell it for us on behalf of Vera and District Lions, of which she is a member. The Lions would then use the money to support local causes. "She also mentioned that the Lions would be happy for us, as they are for any guest, to come to meetings to see if it was something we wanted to join."
Busy getting their house the way they wanted and settling into their new environment, it was a few months before the couple went along to their first meeting.
Having had busy working lives, Ceri as a teacher and Chris as a motorsport professional, they had in any case been talking about doing something to keep their minds occupied while helping others at the same time.
"This looked like something we could do while allowing Chris to travel with work at times as he is semi-retired", Ceri told EWN.
A few further meetings along they decided to join, and are now active members and the club's press officers.
Vera and District Lions Club was formed in 2011 and received its charter in November 2012. There are Lions clubs throughout Spain and in over 200 countries all over the world.
While the Lions Clubs International reaches out across the globe with offers of help, it is the role of Vera and District Lions Club to help local charities and other deserving causes. No member of the Vera and District Lions Club receives payment: they are all volunteers.
The next big fundraising event will be Party in the Park on Sunday April 26 at the El Palmeral Park in Vera. See the club's Facebook page for more details.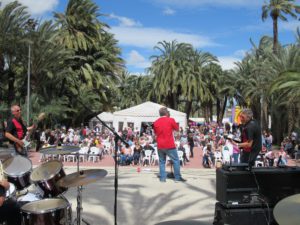 The club meets on the first Wednesday of the month at 6pm in Hotel Terraza Carmona in Vera. The Facebook page and the club's website feature information on what they do, how to help as volunteers or become a member and sponsorship packages.
For further information email Vera and District Lions Club secretary at [email protected]