An American woman was left feeling 'claustrophobic' in her own skin after her holiday henna tattoo resulted in hefty burns. 
Amanda Drish-Adolf's detailed design turned horribly wrong when visiting Thailand. She was in the country with her husband, Nick Adolf, last month. The couple were carrying out their pre-children 'bucket list.'
Amanda, 30, had a half-sleeve mandala style henna tattoo down her left arm, stretching from the top of her shoulder down to her elbow. The tattoo ending up releasing a 'clear liquid' and caused 'grapefruit-size' swelling.
She was initially very pleased with how the tattoo turned out. However, several days later she developed a massive burn on her arm which resulted in numerous blisters. Amanda required hospital treatment.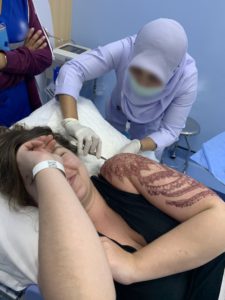 Amanda was left with a 13-inch by five-inch chemical burn which staff treated by popping the blisters and scrubbing off the fluid-filled bumps, leaving her in 'awful pain.'
She has said: "I was letting my arm air on the Tuesday evening, I looked down and on the underside of my elbow there was a grapefruit-sized swelling.
"It was massive and it had a hard core in the middle. Once we saw that specific localised swelling we knew we had to go to the emergency room."
Commenting on her hospital treatment, she said: "Not only did she pop the blisters but she scrubbed all the tops of the blisters off with saline and antibiotic solution.
"It took about half an hour to do, the pain was just awful and I was crying. Every time she took a cotton pad off my arm it was covered in black, my body was rejecting the dye."