IN a surprise move that left residents of Murcia 'angry' and 'furious,' Spain's President, Pedro Sanchez has decided to award funds to Catalonia, the Balearic Islands, and Valencia to help in the recovery from damage caused by Storm Gloria.
Some people have said the amount given by the government to Murcia to aid in repairs and rebuilding is less than it took for him to take the helicopter ride he took a few weeks ago when he surveyed all four areas.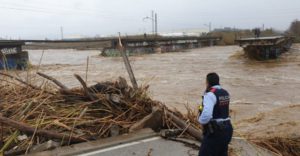 The Finance Minister of Murcia, Javier Celdrán, says that the regional government chaired by the PP member Fernando López Miras will agree on Thursday to present a formal protest "for a discriminatory and unjustified decision."
The allocation total of €19.5 million for emergency services is as follows:
€4.4 million will go to the Balearic Islands.
€5.75 million to Catalonia
€8.1 million to the Valencian Community.
Which basically leaves €1.25 million in the fund for Murcia which locals described as a 'pitiful' amount!
Official sources of the Junta de Andalucía, governed by PP and Citizens, said that the minister has not given an explanation of why Murcia has lost its funding, despite having registered a population increase, and has assured that the Minister of Finance, Juan Bravo, will ask for explanations about the criteria the government use for disaster relief.