Firefighters warn people to "vape safe" after man badly burnt by exploding e-cigarettes.
A man was badly burnt and left with scars on his leg after a vape exploded in his pocket when it came into contact with his keys.
Fortunately for contractor Richard Bingham, he was at Whittington Hospital in Upper Holloway working when the accident happened and was immediately rushed to A&E for treatment.
Now the 37-year-old has joined London Fire Brigade in supporting an Office for Product and Safety Standards campaign which launches today (Monday) to highlight the potential dangers of using vapes.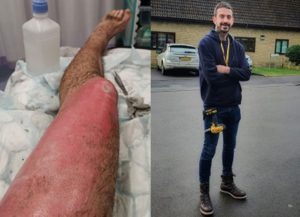 Be careful with the Batteries
Never let your battery come into contact with metal items such as coins or keys in a pocket or bag, as this can cause a short circuit and explosion.
Store removable and spare batteries in a plastic case to prevent accidental contact. Store them out of reach of children.
Don't mix a battery from one supplier or product with a charger from another.
Regularly inspect your vape batteries. If your battery is damaged in any way, leaking or not functioning properly, stop using it and replace it.
Dispose of batteries carefully – your local authority should be able to advise on safe disposal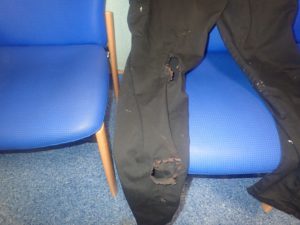 Charging Advice
Only use the charger that came with your vape. Never charge your vape with a phone, tablet or other chargers.
Don't charge your vape overnight, or leave it charging anywhere without regularly checking on it.
Unplug your vape once it's fully charged. Don't leave it charging for an extended period of time.
Charge your vape on a clean, flat surface, away from anything that could easily catch fire, and somewhere you can clearly see it—not on a sofa or pillow where it is more prone to overheat or get switched on accidentally.