WHEN EWN went to print last week one lucky lady was gearing up for a €10,000 spending spree around Torremolinos after winning the ACET Torremolinos "I Love Reyes Por Un Día" prize draw.
You may remember that María José Guerrero, a 51-year-old housekeeper, had ten hours to spend her winnings in associated establishments around the town, and boy did she make the most of it!
Having spent several days visiting the stores to plan her route she knew exactly where she was going.
She started her day at the Garvi Pharmacy, where she bought herself lots of cosmetics and health products, then onto Calzados Bravo, to buy shoes "that I can't normally afford", and on to San Miguel perfume shop. María, bursting with happiness danced through the streets, followed by a camera crew, procession of pink balloons and at some points a brass band.
Obviously María wanted to treat herself to "some whims" and nice gifts to her friends and family after a few complicated months where she suffered the recent death of both of her parents with just one month apart. In Fashion and Sports, she purchased bags and purses, and in the stationery shop, Govez picked up backpacks and other gifts for her grandsons.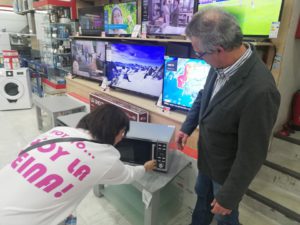 Although the winner was to only allowed to spend €500 in each shop, there was one exception and María was able to spend a thousand euros in Carrefour Travel, where she has booked a flight to Beijing, where her son works. Also, she had promised to buy her brother a news microwave and keeping true to her word she popped into Galerías Sedeño to pick one out for him.
To wind down at the end of her ´once in a lifetime day´ she had booked a dinner for all her friends and family at Casa Juan, where she had picked up the winning ticket that led to the prize. María who lives in Ciudad Jardín had only a few months ago changed her job as a cook in a nursery to cleaning a house in Malaga.  On Thursday she managed to feel like a queen for a day.