A footage of a recording has emerged showing Nadia Falk, Six, being escorted from her school in Florida by a group of police officers, before being committed to a mental health facility.
Heartbroken mother, Martina had to watch a group of police officers carry her daughter away, as school claimed she had been throwing things and attacking school staff.
The police offers were sympathetic towards the situation and questioned why they had been called to arrest a 6-year-old child, who appeared to be pleasant, calm and co-operative.
Nadia was taken to a mental health facility without her mothers permission after staff at Love Grove Elementary School called social workers claiming the child, who has ADHD, was throwing things and harming staff.
Nadia was heavily sedated for 48 hours while being kept away from her mother, Martina.
Martina is now speaking out about the traumatic ordeal and questioning why her daughter was treated so cruelly.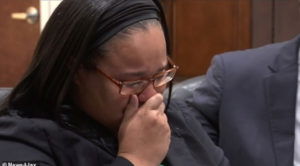 In Florida the law makes no differentiation between children and adults, children may be removed from school, transported to a psychiatric facility and held for 72 hours without parental consent under The Baker Law.
Nadia was heard asking: 'Am I going to jail?' after police were called in.
The female police officer who took Nadia to the police car says: 'she's been so co-operative with me'.
'I think they don't want to deal with it,' another officer said.
The attorney of Nadia Falks said 'She had a tantrum, six-year-olds have tantrums, six-year-olds with special needs have tantrums. The school knew about her tantrums'.
'What medical basis did they have to give this child anti-psychotic medicines? That's what we need to know'.
Martina Falk said 'I got a call saying that she is so uncontrollable that they had to act, and that there is nothing else we could do'
'There's nothing else you could do for my six-year-old? When she was taken to that hospital to be locked away in this isolation, seclusion room. They said they did that as an attempt to calm her down'.
'As a mother I feel helpless. I don't see the benefit of the Baker Act. It's not helping children, locking them away, just to get rid of them'.
'When I went to see her, she was so drugged up she couldn't even recognize me. She didn't know who I was. She had on a diaper. My daughter is fully toilet trained'.
A meeting has been requested with Child Guidance to review the situation.