COSTA Almeria club Taekwondo Mojacar, symbolized by a tribal dragon, has just concluded the latest quarterly grading.
As usual, it was a busy affair with everyone in the club having something to do. The trainees undertaking the grading examination, some confident, some nervous, were all focused on doing well after having trained hard the previous months. The parents were excited and proud to find out how their children performed under pressure. And the club instructors and assistants were all tied up to ensure the event was successfully conducted.
On average, it takes about three hours to complete the grading of various belt levels. Confidence and assurance are what examiners look for, but of course the patterns and forms must be well done.
From white belt, it takes four to five years to acquire a black belt (First Dan). Forms and agility are important criteria in a grading. In taekwondo, students have a total of 11 patterns and various kicking techniques from white to black or 10th GUP to 1st Dan. At the final belt level just before attaining the black belt, trainees are expected to know all the patterns from white onward. Senior belts are expected to assist in sharing and coaching juniors. It's part of the learning and confidence building cycle.
Taekwondo is not an 'everyday' sporting activity. It's structured with a development path, and involves discipline and commitment. But the journey is an interesting and fulfilling one.
As was to be expected during the grading, the students showed excellent form and maturity. Free sparring is also part of the grading from an early age. In consideration of safety guidelines, no hard contact is the norm for all practitioners. In a grading session, application of various techniques are required. Trainees of higher belts are frequently asked to spar against black belts. Apart from forms, patterns and sparring, trainees are interviewed by the examiner to assess characters maturity and mindset. Character building is just as important, if not more, than physical.
In the Rainbow section (4-8 years), Jose Antonio, Eduardo and Summer all passed to the next belt. Eduardo was awarded the "tiger glove" for best improved student and Summer got the "golden gloves" for excellent sparring.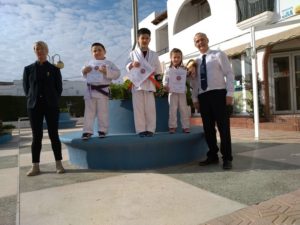 In the Junior section (9-17), Canelie, Miguel, Gabriel, Lily Miles-Kirby, Maite Scheyvaerts and Mila Vickery were successful and received their respective higher belt. A special mention to Mila, who was awarded the golden gloves for best sparring (against two 1st GUP "A" students and a black belt 2nd Dan).
The instructors and assistants judging the event were Serge Dewree (2nd Dan), Laura Linschoten (2nd Dan), Osaia Reding-Commaille (1st Dan), Thomas De Groot (1st GUP A) and Talia Vickery (1st GUP A).