Spain's beaches are notorious for being some of the finest in the world, where both local people and holidaymakers relax and enjoy the natural beauty of the Spanish beach.
Whilst Town Halls across Spain deploy thousands of wonderful staff designated to keep the beaches beautifully neat and tidy throughout the year, the truth is they are fighting a losing battle against the sea.
Spaniards are very proud of their beaches, always evident on an evening after a day basking in the sun, the amount of litter in the bins being evident compared to say Britain where it's a totally different picture where litter louts just leave their days rubbish on the beach.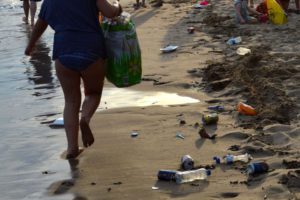 Although being proud and respecting their beaches, Spain still suffers from the sea, where in only recent times it's been highlighted the amount of plastic dumped in the sea and that plastic washes up on the Spanish beaches at no fault of the proud country although Spanish litter appears to also be on the increase.
Whilst Greta Thunberg travels the globe expressing her views on environmental issues, she gets mocked by world leaders such as US President Donald Trump who only recently claimed there was no issue and denounced global warming also.
If world leaders like Trump will not listen to the youngsters coming through the ranks concerned about their future, then what hope is there for Spanish beaches as rubbish gets dumped out of the sea?
Just this morning laid strewn across the beaches of Fuengirola lay rubbish collected of American brands as well as other foreign products such as items from Japan, China, clearly not products from Spain.
Beach clean campaigner Iris Williams told the Euro Weekly News about her frustrations:" I try to do my little bit each day and encourage others to do the same, but whilst here in Spain we look after our beaches, we continue to battle against foreign objects washed up- clearly not dumped by Spaniards or expats but objects that have circled the world"
" Each morning I collect up items from foreign nations that have obviously found their way through the oceans and seas"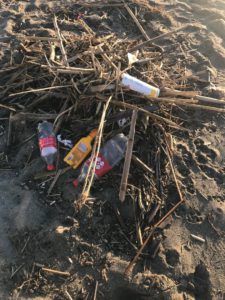 " Although we are collecting Spanish trash as well and there seems to be an element of the youth not caring, I've often been abused by youths pointing out the error of their ways, so when I see this growing it makes me wonder will the problem ever cease" Iris said.
" So we are seeing an increase in foreign objects, an increase in Spanish objects but it's coming out the sea  here in Spain rather than being dumped on the beach, I've witnessed Fisherman throwing their empties overboard without a care in the world,I have seen pleasure boaters throwing in their rubbish too, there's nothing that I haven't seen" Iris fumed.
" It's not litter louts on the beach, we see how respectful beach users are by way of the bins and of course this time of year there are very little beach users anyway but we are at war with what is washed up and it's coming from around the world" she ended with.
Environment campaigner Brian Silk based in Spain's La Cala explained that he agree's with Iris view and said " People are using the sea as a dumping bin and whilst this continues we will never solve the issue I'm afraid, the world needs educating quickly rather than mocking the likes of Greta".