Dozens of Britons are trapped on board a quarantined cruise ship where more than 60 passengers have been diagnosed with coronavirus, with the mystery epidemic having now killed 636 people in mainland China.
Altogether there are 78 people with British passports,  one Brit has just been confirmed as being infected with the virus.
One stranded tourist on the Diamond Princess, which is being held for two weeks in a harbour in Yokohama, Japan, compared the atmosphere to that of a "floating prison", with thousands consigned to their cabins. Japan confirmed 41 new cases of coronavirus on the luxury liner on Thursday, bringing the total to 61, with the first 20 having already been escorted to a nearby hospital for treatment.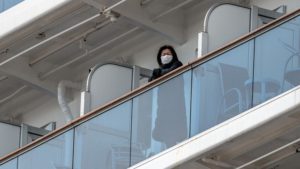 According to a British holidaymaker who is still on board, remaining passengers are being given thermometers to monitor their temperatures and have been told to contact medics if they go above 37.5C.
One passenger is reported as saying: "We are not really worried about the virus as it is out of our hands, (but) it is a talking point that 61 people we have been mingling with for over two weeks have been tested positive and taken off the ship,"