CABRERA Lawn Bowling Club held its two most prestigious competitions, the Ladies' and Gent's Singles Club Championship, simultaneously between January 23 and the February 2.
These are very sought after titles as the champions' names go on the club's board of honour.
In this competition it is the first player to score 21 shots. As always there were some very good rounds. In the end the two finals were contested between Colin (Deano) Jones and Malcolm Smallwood, and Sylvia Byrnes and Penny Craig.
Malcolm started off the better in the Gent's final, and after six ends was 9-1 up. Colin found some form and pulled back slightly, but on the day Malcolm proved to be the stronger bowler and won quite comfortably 21-9.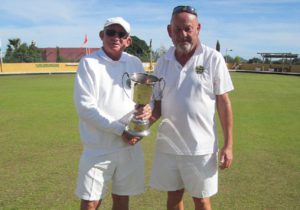 It was a similar story in the Ladies' final. Penny got off to a flying start, with Sylvia trying her best to get into the game. Penny won 21-11. As she was last year's beaten finalist and has been on fantastic form for the last 12 months it was well deserved.
LBC issues many congratulations to both Malcolm and Penny, and commiserations to Colin and Sylvia.
There were thanks also for the umpires, markers and spectators.