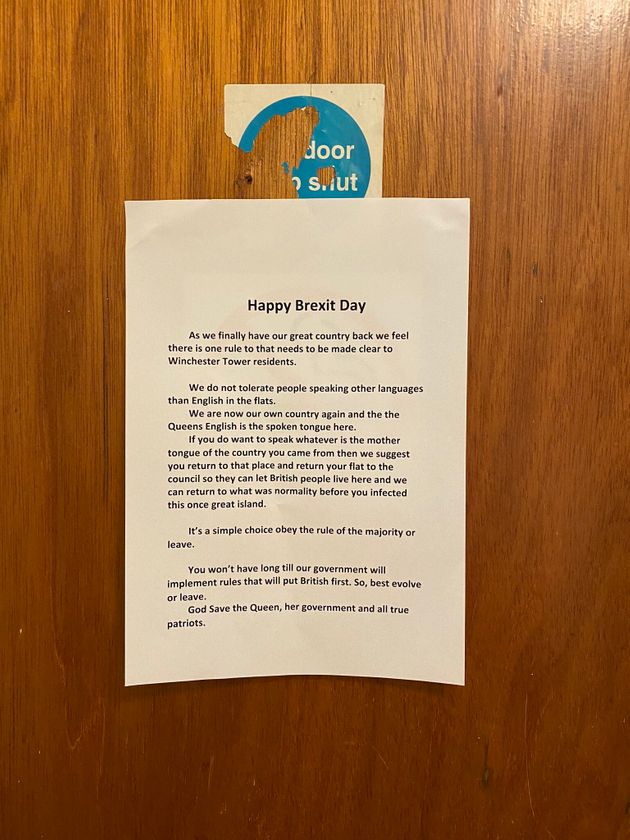 A racist "Brexit Day" poster demanding that residents speak the "Queen's English" has been posted on "every floor" of a Norwich tower block. 
The poster, which had been put up in the communal areas of Winchester Tower block in Vauxhall Street, bears the title "Happy Brexit Day".
One resident, who photographed the poster and reported it to police said he had first noticed it early on Friday morning – the day Britain left the EU – before it was taken down by the block's caretaker.
The words hail the return of "our great country", and go on to explain "one rule that needs to be made clear" – speaking English within the tower block.
The anonymous author adds:
"If you do want to speak whatever is the mother tongue of the country you came from then we suggest you return to that place and return your flat to the council so they can let British people live here and we can return to what was once normality before you infected this once great country."
The resident who reported it to police– who asked to remain anonymous – said the incident had been passed onto Norwich City Council, where it had been reported as a hate crime, and had also logged it with the Norfolk Constabulary.
People from the city were swift to condemn the racist missive, Professor Ben Garrod, of the University of East Anglia, wrote on Twitter:
"Nothing justifies this, Norwich is an open, inclusive place; this hateful crap needs to be dealt with."