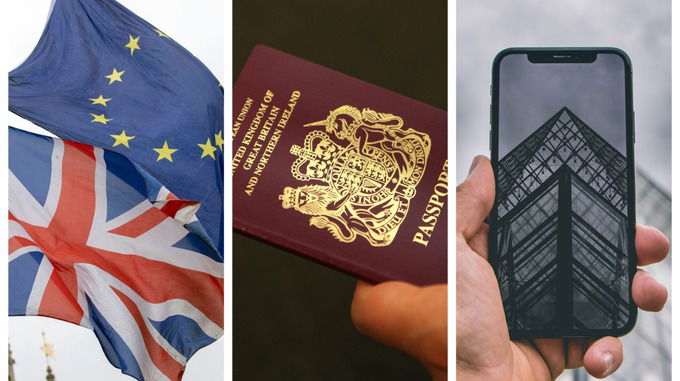 The United Kingdom left the European Union at 11.00 pm on Friday, January 31 – 'Brexit Day'. It marked the end of more than four decades of partnership and the start of an 11 month-long transition period which will see a new deal thrashed out.
Much is set to change once that transition period comes to a close at the end of December 2020 – but what about between now and then?
As an ex-pat, what happens to my passport after Brexit?
During the transition period, very little will change in terms of international travel to the European Union. Passports bearing the United Kingdom of Great Britain and Northern Ireland cover will continue to be accepted, so long as they are in date. There's likely to be some confusion after Brexit as to which passport booth Britons should use;
Until the end of December 2020, it's fine to use the EU citizen gates as normal.
After the transition period ends, this will change though and Passports will continue to be valid until their expiry after Brexit, new passports are already being issued without the European Union symbols on the cover.
The promised blue passports will start dropping through letterboxes across the UK later this year, with all new applicants being delivered a blue passport by the middle of 2020.
Can I still use the European Health Insurance Card after Brexit?
Like passports, EHICs will continue to be valid in December 2020. While the transition period is in place, the cards, which offer free state healthcare in EU countries, Switzerland, Norway, Iceland, and Liechtenstein, will still be valid.
This has been guaranteed by Spain and the Uk until the end of the transition period. The continuing status of the scheme after this date relies on how negotiations play out over the coming year.
The government has issued advice on healthcare in the EU after Brexit, advising people to buy health insurance like they would for any other non-EU destination. Prices vary, so its best to get as many quotes as possible, a typical quote for a 64-year-old male being €149 per month, but of course, that depends on your medical history too.
Mobile phone Roaming Charges?
Since June 2017 UK citizens have benefitted from an EU-wide law stipulating that mobile customers must be allowed to use mobile internet throughout the Union as if they were at home, but changes will not apply until the beginning of next year.
"From Jan. 1 2021, the guarantee of free mobile phone roaming throughout the EU, Iceland, Liechtenstein, and Norway will end," said the advisory. "Check with your phone operator to find out about any roaming charges you might get from Jan. 1 2021."
Driving Licenses
According to the information published by the British Government, you can continue driving with your Spanish driving license in the United Kingdom, if you are an official resident in Spain then you can apply to change your Uk license for a Spanish one anytime before the end of 2020.
What can Brits in Spain do during the transition period?
The number one priority for Brits in Spain is to be officially registered before the end of December 2020, it's compulsory in Spain, but authorities have not been controlling people.
While most people who come here to work or retire are registered, many have not seen the point. But officially you are meant to do it after being in the country for three months. Spain is in a Schengen area, so if you have a house in Spain you'll only be able to be there for three months a year.
The first residency card you'll get is temporary but that will lead to a permanent one after five years. The clock is running and if people don't register before the 31st then they won't be able to build up those five years.
So there you have it, the main thing is that if you live here in Spain and intend to stay, get legal as soon as possible.
Always check out the EWN for help in this matter as there are companies and lawyers that advertise their services in the newspaper, this will help put your mind at rest.
There will be many updates on this subject as Spain and the Uk ratify agreements over the next 11 months, please check back with the EWN to see if anything changes, which I guarantee it will!