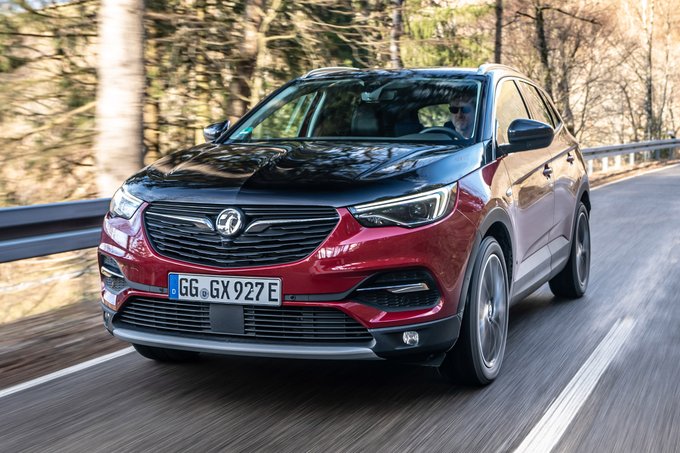 VAUXHALL is continuing its journey towards electrification with the new Grandland X Hybrid4 all-wheel drive plug-in hybrid electric vehicle.
This is Vauxhall's first-ever plug-in hybrid and features state-of-the-art plug-in hybrid technology. The car's powertrain comprises a 200hp, 1.6-litre turbocharged direct-injection four-cylinder petrol engine and an electric drive system with two electric motors, all-wheel drive and a 13.2kWh lithium-ion battery.
Together, the Euro 6d-TEMP-compliant petrol engine and electric motors produce up to 300hp, and offer a combined fuel consumption of 204mpg, emitting just 34g/km CO2. The Grandland achieves 0-60 mph in just 5.9 seconds. The front electric motor is coupled to an electrified eight-speed automatic transmission, while the second motor and differential are integrated into the electrically-powered rear axle, providing all-wheel traction on demand.
Four driving modes are available, electric, hybrid, AWD and Sport. In pure electric mode, the car has a range of 35 miles. In hybrid mode, the car automatically selects the most efficient method of propulsion. When travelling at low speeds, for example, the system switches to electric mode for zero-emission driving.
The Grandland X Hybrid4 comes with a 3.7kW on-board charger, with an optional 7.4kW version also available.
The 'e-Save' section of the infotainment system allows the driver to determine how much battery energy needs to be reserved to ensure that the vehicle reaches its destination when in a zero-emissions zone. The driver can choose to save six or 12 miles of range, or reserve all of the battery energy. Drivers can access 'e-Save' via the infotainment system.
In addition, regenerative braking captures kinetic energy during deceleration that would otherwise be dissipated as heat. The customer can choose from two recuperation modes that turn the electric motors into generators, allowing electrical energy to be returned to the battery and stored.
To further improve efficiency, the Grandland X Hybrid4 features a regenerative braking system, which can increase the electric range by up to 10 per cent.
Continuing Vauxhall's reputation for class-leading on-board technology, the Grandland features the new Vauxhall Connect telematics service. This includes Live Navigation as well as the ability to check key vehicle data via an app. Direct connection with roadside assistance provides the driver and passengers with additional peace-of-mind. Help can be reached within seconds by pressing the red button on the centre console. If the seatbelt tensioners or the airbags are deployed, the emergency call is activated automatically.
The Grandland X Hybrid4 is a key part of Vauxhall's commitment to electrifying its entire product portfolio by 2024.