MEMBERS of the European Parliament have backed the terms of the United Kingdom's departure from the European Union, where the withdrawal agreement is expected to be signed off in Brussels later this evening.
MEPs ratified the Brexit Withdrawal Agreement by 621 votes to 49 following an emotional debate in Brussels which saw Nigel Farage rip into the EU before storming out of the chamber. Other MEPs cried and sung songs in union. expressing their sadness of the impending Brexit which will come into force from 23:00 GMT on Friday, January 31.
Guy Verhofstadt, the spokesman for Parliament's Brexit said he was "sad to see a country leaving that has twice given its blood to liberate Europe". Several British MEPs said they hoped that the UK would one day return to the EU, with Ursula von der Leyen, the President of the European Commission stating: "We will always love you."
Michel Barnier, the EU's Brexit negotiator also wished the UK well, saying that the European Parliament would approach talks on the future relationship with "patience and objectivity whilst defending its members' interests."
Molly Scott Cato, a Green Party MEP, held back tears as she was applauded and hugged by her colleagues after she spoke of her "grief and regret" at the UK's departure and her hopes to return to the European Parliament in the future.
Belgian MEP Philippe Lamberts also spoke poignantly and said that the EU must learn lessons from the UK's decision to leave, where they must now "regain the hearts and minds of European citizens by focusing on what it could do for the many and not the few."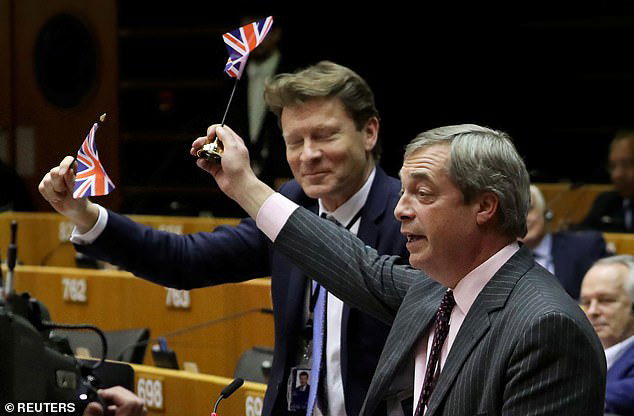 Nigel Farage however took a different view, using his final speech to slam the EU, branding it as "anti-democratic". He said:
"I want Brexit to start a debate right across Europe – what do we want from Europe?", arguing that "trade, friendship, co-operation and reciprocity between nations could be achieved without all of these institutions and all of this power".
Concluding his speech, Mr Farage said: "I know you are going to miss us. I know you want to ban our national flags but we are going to wave you goodbye and we will look forward in the future to working with you"
MUST WATCH 📺 | @Nigel_Farage goes out in style, giving the European bureaucrats one last hammering in his farewell speech. He's even cut off for waving our national flag – the European Union doesn't take too kindly to national pride! Cheerio! 👋 pic.twitter.com/dzpQsXWTpB

— Leave.EU (@LeaveEUOfficial) January 29, 2020
As Euro Weekly News understands, parliament vice-president Mairead McGuinness then switched off Mr Farage's microphone as he was finishing his address as she told the party's MEPs to "put your flags away, you are leaving."
Alongside Brexit Party MEPs, they cheered and waved their Union flags before walking out of the chamber.