It is a debate that has torn the nation in two, ripped friends and family apart, and entrenched deep and uncrossable lines throughout the land. Should the Royal Mint have used an Oxford comma on its Brexit 50p piece?
The Chancellor Sajid Javid unveiled a commemorative 50p coin to mark Britain's departure from the EU this Friday, which features the motto:
"Peace prosperity and friendship with all nations."
While Mr. Javid's job title means he needs to be more of a numbers man than a wordsmith, that hasn't stopped some from sticking the knife in over the lack of what they believe to be a crucial Oxford comma.
His Dark Materials author Sir Philip Pullman has led the rebellion over the coin, of which some three million are due to enter circulation around the UK to mark Brexit on Friday.
Sir Philip tweeted: "The 'Brexit' 50p coin is missing an Oxford comma, and should be boycotted by all literate people."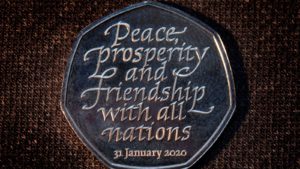 His frustration has been echoed by Stig Abell, the editor of The Times' literary supplement and regular Sky News newspaper reviewer, who said: "Not perhaps the only objection, but the lack of a comma after 'prosperity' is killing me."
Proponents of the Oxford comma use it immediately before the coordinating conjunction (usually and or) in a series of three or more terms, although its doubters tend to dismiss it as an Americanism that has no place in British writing.
The quote echoes Thomas Jefferson's first inaugural address as US president in 1801, when he laid out the "essential principles" of his government – including (and note the comma usage)…
"peace, commerce, and honest friendship with all nations, entangling alliances with none".
A plan to produce a commemorative Brexit coin last year had to be abandoned because it was marked with the original departure date of 31 October.
The criticism of the new coins follows the Bank of England's decision to use a quote on its Jane Austen banknote about the joys of reading – apparently unaware that the character who utters the words has no interest in reading. Ireland's Central Bank, meanwhile, misquoted Ulysses on a commemorative coin intended to honour James Joyce.