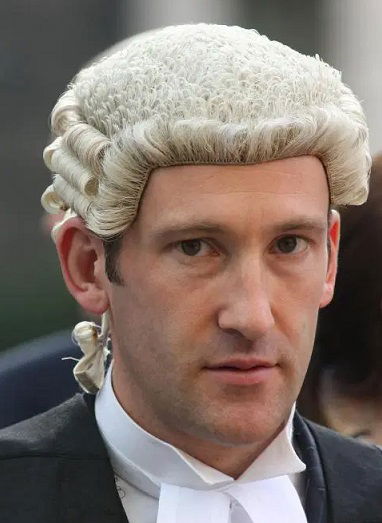 As the judge passed sentence at a murder trial in the Old Bailey, the court erupted with enraged supporters of the killers screaming abuse at the prosecution QC, with one man in his 20s climbing over the rail of the public gallery and dropping down into the courtroom.
Oliver Glasgow, QC, rushed over to restrain the man with the help of three police officers while objects, including an umbrella and a seat from the dock, were thrown across the court.
The man yelled "I will murder you" to Mr. Glasgow and those trying to restrain him he was bundled out of the court and handcuffed in the corridor outside.
The Old Bailey then went into lockdown as three City of London police vans carrying up to 30 riot officers with police dogs, dashed to the scene.
The trial heard how Kamali Gabbidon-Lynck, 19, was cornered by members of a north London gang called the NPK and murdered in front of terrified customers at the Coffee and Cream Hairdressers in Wood Green. His friend, 20-year-old Jason Fraser, was stabbed eight times and shot once but survived the murder bid on 22 February this year, the Old Bailey heard.
'A PLANNED AND PREMEDITATED MISSION'
Tyrell Graham, 18, along with Sheareem Cookhorn, 21, and three 17-year-olds who can now be named – Ojay Hamilton, Shane Lyons and Jayden O'Neill-Crichlow – were all convicted of murder by a jury.
Both victims had links to a Wood Green-based gang called WGM. Jailing the gang on Monday, Judge Richard Foster said: "The facts of this case are as shocking as they are futile.
"The public needs to know the consequences of this sort of behaviour.
"A disturbing feature of this case is the use of rap music to antagonise others and glorify your conduct. This was a planned and premeditated mission.
"Your actions terrified innocent members of the public going about their business on a Friday evening.
"The murder was witnessed by a four-year-old and the owner of the salon was too traumatised to give evidence nine months later."
Cookhorn was jailed for a minimum of 28 years, Graham for 25 years, O'Neill Crichlow, Lyons and Hamilton were each locked up for a minimum of 21 years.