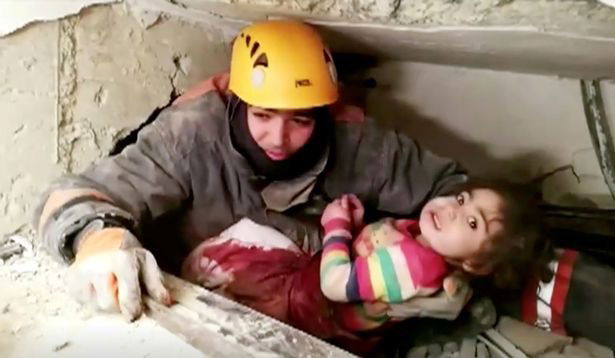 A young girl has been found alive under wrecked building 28 hours after being trapped with her mother following the 6.8- magnitude quake in Turkey, which has sadly killed 31 and injured 1,556.
More than a day and a half after the powerful earthquake hit, rescue teams have continued to pull survivors from collapsed buildings. Turkish television showed Ayse Yildiz aged 35, and her daughter who is believed to be aged two, Yusra being saved from a collapsed apartment building in Mustafa Pasa district. The earthquake struck and left them both trapped for a 28 hour period.
Emergency teams set up more than 9,500 tents for displaced residents and provided more than 17,000 hot meals as temperatures dropped to -5 degrees celsius. Rescue teams concentrated their efforts in the Mustafa Pasa neighbourhood of the city Elazig and the nearby town of Sivrice, the closest residential area to the epicentre of Friday night's quake.
Hundreds of people have been left homeless, but local mosques, schools and sports halls and student dormitories have opened their doors last night for the people who have been left stranded after the 6.8-magnitude tremors hit at 1755 GMT last night. The epicentre of the quake was about 340 miles east of the capital, Ankara. Various earthquake monitoring centres gave magnitudes ranging from 6.5 to 6.8.
Turkish President Recep Tayyip Erdogan cancelled his plans in Istanbul earlier Saturday and went to Elazig to inspect the rescue efforts. He visited the hardest hit areas and attended the funeral of a mother and son killed in the quake.
Erdogan warned people against repeating 'negative' hearsay about the country not being prepared for earthquakes: 'Do not listen to rumours, do not listen to anyone's negative, contrary propaganda, and know that we are your servants.
'We are doing everything we can as the state and nation, and will continue to do so. Our efforts at all rescue sites will continue.' He also added that state housing developer TOKI would make sure no one was left 'hungry or in the open'.