Tenían 270 #perros ocultos en pésimas condiciones, algunos con las cuerdas vocales seccionadas, posiblemente para que no ladrasen y los vecinos pudiesen descubrir el criadero ilegal. Se encontraban en dos criaderos ilegales ubicados en las localidades madrileñas de Meco y Arganda del Rey. Hay cinco personas detenidas, entre ellas dos veterinarios, que presuntamente conformaban una de los principales distribuidores de perros a nivel europeo. Los canes se encontraban en un zulo construido en el sótano de una vivienda en pésimas condiciones higiénico-sanitarias y de habitabilidad, incluso algunos de ellos habían sufrido una sección de las cuerdas vocales, posiblemente para que no ladrasen y pudieran alertar a los vecinos. Actualmente los perros intervenidos se encuentran bajo la custodia de varias protectoras de animales, a la espera de la decisión judicial sobre su destino final.STOP #MaltratoAnimal #somostupolicía

Geplaatst door Policía Nacional op Donderdag 23 januari 2020



Credit: Policia Nacional / Spanish National Police
Spanish National Police have successfully dismantle two illegal Chihuahua kennels and rescue 270 dogs
The agents found the dogs of one of the kennels in a secret hideout built in the basement of a house.
The dogs were found in horrendous conditions, some with their vocal cords severed, possibly so that they would not bark and alert neighbours of the illegal kennel.
Two dead pups were also found, frozen and callously wrapped in filthy newspaper.
The illegal kennels were located in the towns of Meco and Arganda del Rey in Madrid. Five people have been arrested, including two veterinarians.
At present, the dogs are in the custody of several animal protection societies, awaiting a judicial decision on their final destination.
The investigations began early last year following a complaint which singled out an illegal puppy farm in a house in the Madrid town of Meco. The animals were said to be distributed throughout Spain and the rest of Europe.
After following the necessary protocol, an inspection was carried out in the house, and 12 dogs of the Chihuahua breed were rescued. Veterinary tests revealed the barbaric proof that some of the dogs had had their vocal cords cut, possibly so that they would not bark and alert the neighbours of the existence of an illegal dog kennel in the urbanisation.
From this point onwards, the main objective was to identify all those involved in the illegal trade.
It was discovered that the people behind the clandestine operation had registered more than 1,400 dogs with the Royal Canine Society of Spain, with the aim of giving them an appearance of "legality" and thus permitting a higher price for the sale of each dog, even though no "legal" breeding had taken place.
Following on from these discoveries the National Police searched the kennels located in secret hideouts where they were able to rescue another 258 dogs.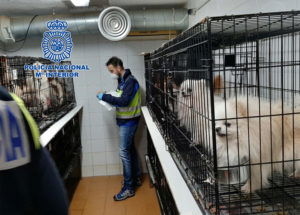 A total of five people have been arrested, including the couple that led the group, resident in Arganda del Rey and considered one of the main distributors of dogs of the Chihuahua and Pomeranian breed at European level.
A computer expert was also detained, this person was in charge of the commercial strategy through marketing campaigns and advertising on social networks.
The other crooks, also taken into custody, were two veterinarians whose main activity consisted in giving the dogs that were being sold an appearance of legality, by providing sealed but unfilled dog passports by the veterinary centres, so that the top people in charge could adapt them to their needs. They also facilitated the breeder's access to veterinary medicines and relevant equipment so that the breeder could put the required identification chip in the dog before selling it.
After analysis of all the documentation, it appears that the group could have been operating for more than a decade and would have made a profit of more than EUR 2 million.