THE Costa Blanca and Valencian coastline have been pummelled by a vicious storm this morning, shutting Alicante airport, flooding homes and blanketing areas with at least a foot of snow.
Euro Weekly News reporters have braved the deadly storm to capture images of the destruction left in Gloria's wake.
Snow blankets Spain's east coast leaving crops frozen under an icy white mantle of flurry.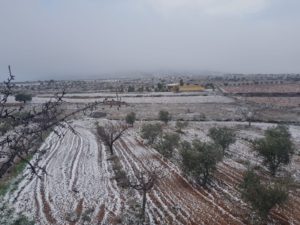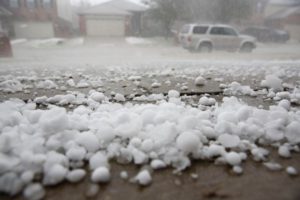 Snow drifts have also built up inland as a seven-hour shower in Villena, Valencia, left the city's 35,000 inhabitants cut off after up to three inch piles of the white snowdrift blocked roads.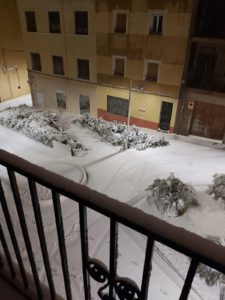 Waves smash stores along Costa Blanca beaches as storm shuts Alicante airport, forcing flight cancellations. The whole coast of Alicante and Valencia is suffering the effects of storm Gloria.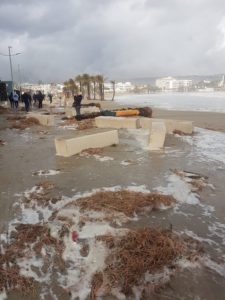 Towering waves have been pictured slamming into the coastline while, in Denia, seawater was filmed gushing through the streets of the city. Totally swamping the beach promenade.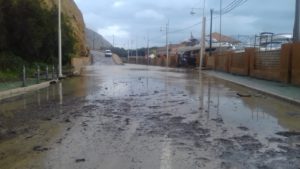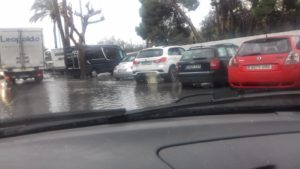 Videos show the swell taking away the boats that are usually stranded on La Mata beach. Although the wind is losing strength, the maritime situation will remain complicated throughout the day. (Credit: Iván Macan)
El oleaje se está llevando las embarcaciones que suelen estar varadas en la playa de La Mata. Aunque el viento pierde fuerza, la situación marítima seguirá siendo complicada durante todo el día de hoy. Las imágenes nos las envía Iván Macan.

Geplaatst door Proyecto Mastral – El Tiempo en Torrevieja op Maandag 20 januari 2020
Ferocious waves can be seen breaking against the houses of Babylon in Guardamar del Segura.
(Credit: Rubén Vicente)
A las puertas de las casas. No sólo en Torrevieja el temporal de viento y oleaje está causando daños. Toda la costa de Alicante y Valencia está sufriendo los efectos de la borrasca Gloria.El vídeo que nos envía Rubén Vicente nos muestra como el oleaje rompe contra las casas de Babilonia en Guardamar del Segura.

Geplaatst door Proyecto Mastral – El Tiempo en Torrevieja op Maandag 20 januari 2020
Flights to London, Newcastle, Bristol, Edinburgh and other major cities were cancelled as the airport shut for the day, forcing holidaymakers to either change their travel plans or travel to a different airport until the dangerous weather moved on.
As Euro Weekly News understands from earlier reports the motorway A31 km 147 between Albacete and Madrid is also closed.
Don't forget to install the snow chains in the driving wheels, and that "snow socks" are also valid.