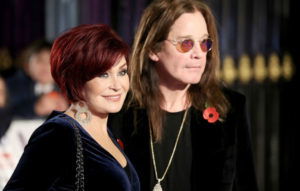 Yes, Rocker Ozzy Osbourne and his wife/manager have today been looking at large villa's in Torreblanca Fuengirola Spain.
They viewed a property in Calle los Camachos high in the hills of Torreblanca over looking the cliff with dynamic sea views.
They also viewed another property in Mijas pueblo but the exact location is unknown.
It was apparently a whirl wind visit for the Osbourne's who flew in this morning by private jet and were met by property agents Homes Abroad who deal with many celebrity property purchases across the Spanish coast of the Costa del Sol.
Calle los Camachos neighbour Jim Mcguire told the Euro Weekly News " I couldn't believe my eyes, I was doing some pool cleaning, looked out the gate and saw Ozzy walking across to next door holding hands with Sharon, I had to take a double take and a third double take, and yes it was them! I'm a huge Black Sabbath fan and charged out the gate, I'm nearly 70 but I was so excited, I was like a school child!"
" They were very pleasant thankfully and ignored my excitement and stood and chatted and asked me about the location, Ozzy said to me " where's the nearest [email protected]"king bar man" as he laughed, Sharon just said " oh Ozzy what you like" – I did get an autograph as I told them how wonderful and peaceful it is up here"
" They asked a lot of questions but didn't really give away their plans" said rock fan Jim.
" They spent a lot of time in the Villa, at least an hour, they waved to me as I left, the Villa is owned by an elderly couple who have moved out now, it's a lovey huge villa but very private and the car they arrived in had Homes Abroad written all over it"
" I've got my fingers crossed they buy it" ended Jim.
We spoke to Lotty from Homes Abroad and she told us " I can't confirm details but yes we do a lot of celebrity viewings and today was no exception"
" We took a couple to Torreblanca and then to Mijas before returning them to the airport"
Fuengirola at present is becoming more and more popular it seems as only a few weeks ago Katie Price was in town.