This week Celebrity Chef & Fellow Master Chef Steven Saunders, proprietor of The Little Geranium in La Cala shares some New Year tips to help shed those Christmas pounds!
EVERY New Year I try and get healthy again because let's face it we all want to feel and look better, but it's not easy changing the habits of eating those yummy chocolates and left over Christmas treats.
Realising and accepting that we have eaten and drunk too much is the first step to getting us to think about doing something about it! We all want to eat less junk food, smoke less, drink less and get fit, but it's not easy.
I always kick start the New Year with the best diet plan in my opinion for immediate results, it is the Keto diet.
The name 'keto' comes from the fact that it allows the body to produce small fuel molecules called 'ketones.'
This is an alternative fuel source for the body, used when blood sugar (glucose) is in short supply. The liver produces ketones from fat; these ketones then serve as a fuel source throughout the body burning off the fat.
If you change your diet to eating very few carbs and a good amount of protein within weeks you will start seeing a difference. It is a diet that is safe for everyone unless you are taking medication for diabetes, high blood pressure or you are breast feeding. (Consult your doctor first if that is the case.)
On a ketogenic diet, your entire body switches its fuel supply to run mostly on fat, burning fat 24-7.
This is great if you want to lose weight quickly, but my advice is not to stay on it. Use it as the means to get rid of those unwanted pounds and afterwards be careful what you eat and do some exercise.
This is also the time of year that I lighten up my menus in terms of using less carby vegetables like the ones that grow underground.
I have been buying kale, cauliflower, tender stem broccoli and baby courgettes as they are all low in carbs. However, I still have some most indulgent dishes on the menu of course and always will.
My business thrives off special occasions and that's when we put aside our diet plans for a bit and just enjoy the occasion. In any case it is almost impossible to do a seven days a week diet so I always eat what I want on my days off (Sunday and Mondays) then I go back to the stricter regime on Tuesday.
One of the other most important things to do is exercise and I have been playing padel at the Miraflores tennis club for the last few weeks and I am really enjoying it!
A bit of fun with exercise and a bit more thought to what I am eating and the excess pounds will falI off.
If you want to lose some weight with a sensible diet plan with no gimmicks then take a look at Keto and at the list below and start making the change!
What can I eat on this diet?
Lots of fish especially salmon and shellfish
Cheese but no biscuits
Cream and coconut milk
Eggs
Natural fat like olive oil, butter, coconut oil, avocado oil
All meat
Vegetables that grow above the ground especially leafy green vegetables
All salads
Berries like strawberries, blackcurrants, blueberries
Tea and coffee with no sugar, water, wine in moderation, some diet drinks
What should I avoid?
Bread unless made with almond or other nut flour
Potatoes
Pasta
Sweet candy and chocolate bars
Rice, couscous and other grains
Full fat fizzy drinks and beer
Condiments like ketchup, brown sauce
Smoothies made with fruit as they contain too much natural sugar
Here are some food swaps
Swap milk chocolate for dark chocolate (minimum 80 per cent cocoa solids)
Swap fruit yoghurts for natural Greek yoghurt and add fresh raspberries
Swap cheese and biscuits for cheese with an apple or with olives or celery
Swap crisps and sugary nuts for whole brazil nuts or macadamia nuts
Swap potatoes for roasted cauliflower
Swap root vegetables for green leafy vegetables
Swap sweets and cakes for fresh raspberries, blackberries, strawberries or cherries
Swap bread for bread made with only nut flour not wheat or gluten free breads.
Steven Saunders's opinions are his own and are not necessarily representative of those of the publishers, advertisers or sponsors.
---
Roasted cauliflower soup, wild mushrooms and truffle oil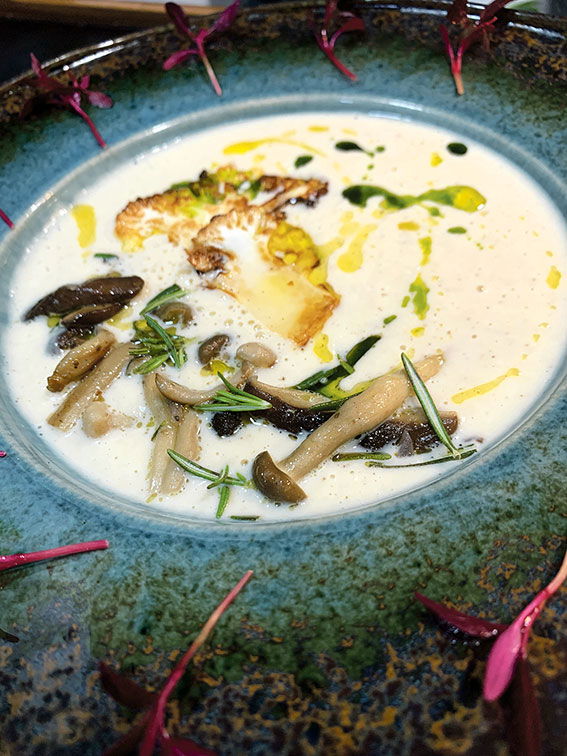 The flavour of the cauliflower is enhanced incredibly when roasted to make this silky smooth, warming, most delicious soup. Ideal for a light lunch or dinner, but avoid the bread!
INGREDIENTS for four
1 large head cauliflower (about 1 kilo), cut into florets
3 tablespoons extra-virgin olive oil
Maldon salt
1 red onion, chopped
2 sticks celery chopped into 2cm pieces
3 cloves garlic peeled and sliced
1 leek washed and cut into 2cm pieces
1 .5 litres of good vegetable stock
2 tablespoons of olive oil mixed with 1 clove of garlic finely chopped
200g approx of wild or field mushrooms cleaned and pan fried with the garlic oil above until tender and cooked
150g tablespoons unsalted butter
¼ teaspoon ground nutmeg
100ml of milk and 100ml of cream mixed together and warmed
1 tablespoon of white truffle oil (or four good drizzles)
Method
Preheat the oven to 200ºC
Toss the cauliflower florets with two tablespoons of the olive oil until lightly and evenly coated in oil. Arrange the cauliflower in a single layer in a roasting tray and sprinkle lightly with salt. Bake until the cauliflower is tender and caramelised on the edges, 25 minutes approx tossing halfway.
Once the cauliflower is almost done, in a large pan warm the remaining one tablespoon olive oil over medium heat until shimmering. Add the onion garlic, leek and celery and sweat in the pan, stirring constantly for about 30 seconds, then add the vegetable stock.
Reserve four roasted cauliflower florets for garnish. Then transfer the remaining cauliflower to the saucepan. Bring the mixture to a fast simmer and cook, stirring occasionally, for 20 minutes
Remove the saucepan from the heat and let it cool for a few minutes. Then, carefully transfer the hot soup to a blender, working in batches if necessary to create a smooth thick soup.
Add the butter and the nutmeg and blend again.
When required simply heat up the soup and add the warmed milk and cream and blend with an electric hand blender. Top the soup with the reserved cauliflower florets and a few cooked wild mushrooms and drizzle with the truffle oil.
Follow Steven on Instagram … saunderschef – Email any questions … steven@thelittlegeranium.com
The Little Geranium, Winner of Best Contemporary International Restaurant 2019-Costa Del Sol – www.thelittlegeranium.com