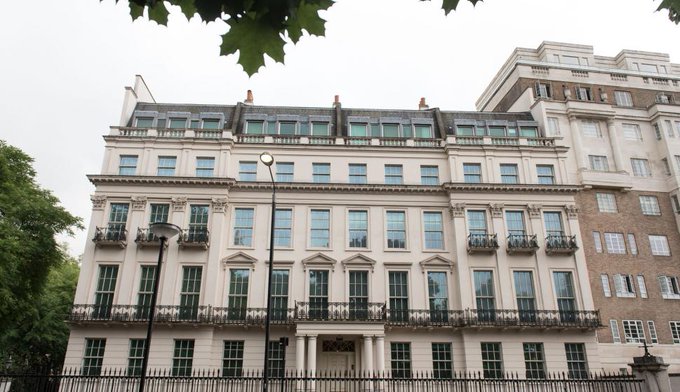 A Chinese property tycoon is set to buy a 45-room mansion in London for a record price in excess of £200 million ($262 million), making it the most expensive home ever sold in the U.K.
The exorbitant price and opulent design makes the most expensive house in Spain sound rather modest.
The seven-storey house at 2-8a Rutland Gate, overlooking Hyde Park, was built in the 1980s and has interiors by French designer Alberto Pinto.
Where as the Marbella luxury villa comes at a moderate 55 million euros in comparison and only has five suites. Though it should be stated that three of the suits are in the "guest villa", and another for the "staff" with four rooms plus another house on the beach with 2 suites.
The seven-storey London residence previously belonged to Prince Sultan bin Abdulaziz Al Saud, the late former Crown Prince of Saudi Arabia, until his death in 2011.
It was also the home of Rafic Hariri, late billionaire and former prime minister of Lebanon. Hariri, who was murdered in 2005, was the father of Lebanon's current prime minister and billionaire, Saad Hariri.
A statement from the Chung-kiu's family office said the tycoon is considering whether the property would be used "as a single house for private client use" or converted into an ultra-prime multi-unit apartment scheme".
The mega-mansion in London measures in at 62,000 sq ft, where as the most expensive house in Spain, currently on the market, has "just" 26,246 sq ft.
On the plus side the Spanish luxury villa leads directly to a private beach area. The Spanish house has been on sale for ten years, during which time it has served as accommodation for different families from Saudi Arabia who have come to Marbella in the summer.
When the purchase of the London mansion completes, next month, it will be the most expensive home ever sold in London and England.
The record was previously held by Park Place in Henley-on-Thames, Berkshire, which was acquired by the exiled Russian banker Andrey Borodin for £140 million in 2011.
The world's most expensive "home" is also found in London, but it belongs to the Queen of England, and is a palace, so it doesn't really count as a private residential home. Making the most expensive house in the world one found, irronically or not, in India, belonging to the Reliance Industries Limited MD and Chairman, Mukesh Ambani, whose 27-storey Antilia on Mumbai's Cumballa Hill, was built in 2010 at an estimated cost of between $1-2 billion.