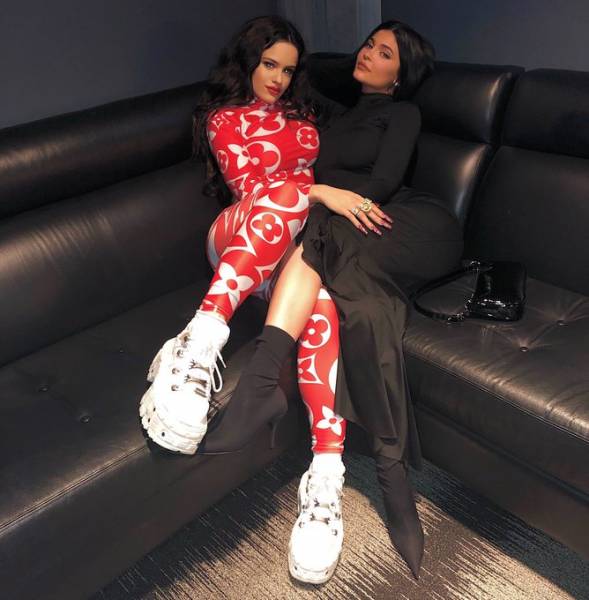 RUMOURS have it that Rosalía, the international Spanish singer, has recently become engaged to Kylie Jenner, who is a billionaire cosmetics businesswoman.
Kylie has just shared a photo with Rosalía where the latter appears happily flaunting the opulent engagement ring given to her. The image posted on Instagram has left fans worldwide buzzing with excitement and eager for more up-dates.
Rosalía hit international stardom relatively recently, but since her debut nearly a decade ago, she has grown from strength to strength in the music world.
When Rosalía was 15, she auditioned for the Spanish singing show, Tú Sí Que Vales. She didn't make the cut, but she took the loss in stride. "It doesn't matter," she said. "I've come here to accept critiques and learn from professionals like you. I accept your opinion."
Since then she has become one of Spain's most famed international signers.
Initially known for her modern interpretations of flamenco music, Rosalía received international attention after several collaborations with artists such as Travis Scott, J Balvin, Pharrell Williams, and James Blake. She has received various accolades, including five Latin Grammy Awards and two Grammy Award nominations.
Rosalía released her first album in 2017. The concept album featured songs inspired by traditional flamenco music, a rhythmic style of Spanish music that held (and still holds) a special place in the singer's heart.
In an interview with Dazed, the artist said, "Flamenco inspiration is, above all, the frame I compose my music within."
Rosalía has a huge following overseas. Since her debut nearly a decade ago, Rosalía has been very busy. She's performed in Singapore, Argentina, Europe, and Panama, to name a few. And she's worked with some of the biggest names in music, with her work recognized by publications such as Glamour, Time Out, BBC, ABC, and MTV—plus the Latin Grammys.
Rosalía has been nominated for several awards in 2018, she won two Latin Grammys for "Malamente." On August 26, her song with J. Balvin not only earned the VMA for Best Latin Video, but also for Best Choreography.
Now it seems that the Spanish Star may have got engaged to Kylie Jenner, the billionaire cosmetics businesswoman, founder and owner of cosmetic company Kylie Cosmetics.
According to Forbes magazine, Jenner's net worth is estimated at US$1 billion, making her, at age 21, the world's youngest billionaire as of March 2019. She is also one of the most followed people on Instagram.
The romance between the two young women seems to have bloomed in recent months leading to what is believed to be a marriage proposal as demonstrated from the recent photo posted by both young women on Instagram. Rosalía poses in the photo very affectionately with Jenner. Under the image the artist has written "I said yes" and has accompanied the text with a ring, indicating a possible engagement.
Kylie Jenner simultaneously uploaded the same image to her Instagram account.