SPAIN'S roads have been hit with tragedy after a serious collision resulted in the deaths of two young men and multiple other people being seriously injured.
As reported by the emergency services, a BMW was hit head-on by a truck at KM20 on the N-121-A in the municipality of Olagüe in Pamplona, Spain, yesterday evening (January 11). The collision had a devastating knock-on effect to two vehicles travelling behind the BMW, where they crashed into the car which was in front of them, with a fifth vehicle also swerving off the road to avoid being hit.
As the accident was called into the emergency services hotline, several ambulances, 6 units from the police and the fire brigade raced to the scene. Upon arrival they attended to the seven individuals involved in the crash, who were reported to be between the ages of 16- and 56-years-old.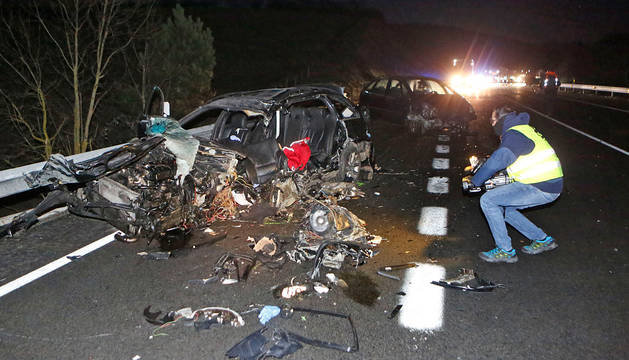 However, due to the severe impact that the BMW received by the heavy-duty truck, the two men who were travelling inside, both reported to be under the age of 30, were pronounced dead at the scene. The death of both, according to SOS Navarra, was instantaneous.
Firefighters then removed their bodies from their heavily damaged car before they were taken to the Navarro Institute of Legal Medicine for an autopsy. The five other injured victims were transferred to a nearby hospital where it is reported that several have been seriously injured as a result of the crash.
As Euro Weekly News understands, the police have now launched an investigation to try to determine the cause of the road accident, but it is understood that this will take some time due to the amount of vehicles involved and the damage that has been caused.
The fatal incident resulted in the road being shut for several hours with traffic diverted to the NA-8104.
The N-121-A is considered to be one of the most dangerous roads in the municipality, claiming the lives of 15 people in the last three years.