Darkness approached, the temperature had dropped dramatically, the crowds of onlookers had been moved a safe distance away.
After waiting patiently for almost five hours the police chief in charge decided it was time to end the stand off…
The police launch that had been waiting in the distance suddenly turned towards the beach, aiming directly at the man, who suddenly realised they were going for it.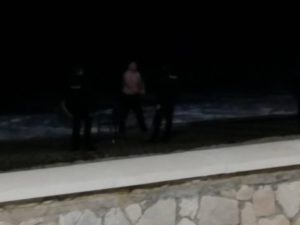 As he turned to look at the approaching boat (with around 6 officers on board) the armed officers on the beach lunged forward and grabbed him. In a last frenzied attempt to get away he was finally restrained, pushed down head first into the sand and quickly hand-cuffed.
Video footage of the final moments courtsey of Kristian Jossund
Every body gave a sigh of relief, it was over, the suspect was taken away on a stretcher to the local hospital, as yet the nationality of the man is not known.