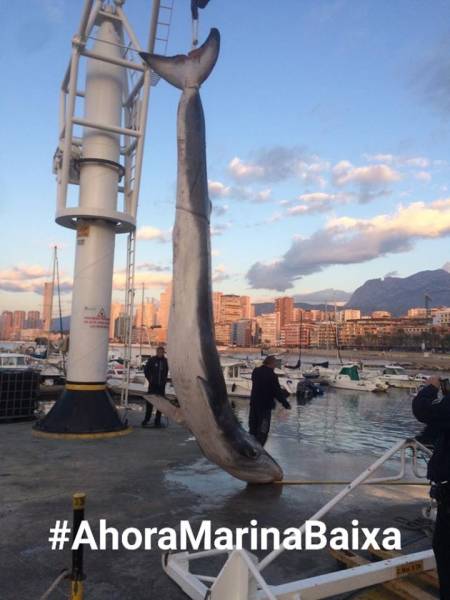 A WHALE calf, originally located alive but in very bad conditions, was sighted off the coast of Benidorm.
Euro Weekly News was alerted to the news via a post by Ahora Marina Baixa which has shown images of the 7 metre long fin whale calf.
The whale, despite being sighted alive, died shortly after it's location off the Benidorm coast.
This morning (Friday) aquatic veterinarians and marine biologists from the University of Valencia and the Cavanilles Institute of Biodiversity and Evolutionary Biology are analysing the necropsy of the animal.
Biologists are trying to determine the cause of its death. As experts have explained, according to Ahora Marina Baixa, fin whales usually pass through the area although sightings are rare.
Readers have shown their concern over the incident, one stating:
A pity, because of climate change many animals die. Normally this animal lives by the ocean, how sad.
Fin whale is one of the largest whales on the planet. It can reach 85 feet in length and 40 to 80 tons of weight.
It belongs to the group of baleen whales. Fin whale can be found in all oceans of the world. There are two subspecies of fin whales: northern (inhabits oceans of the northern hemisphere) and southern (inhabits oceans of the southern hemisphere). Fin whales prefer temperate and polar waters. They usually swim in the open sea away from the shore. Main factors which decrease number of fin whales in the wild are whaling, noise pollution, drastic reduction of available food (fish), collisions with ships and entanglement in the fishing nets. Fin whales are listed as endangered animals.