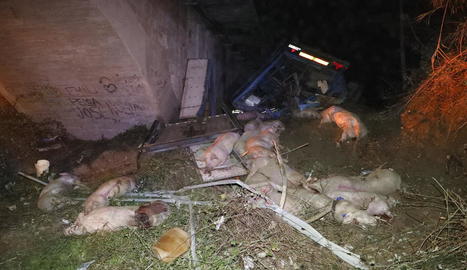 THE issue of slaughterhouses in Spain is one that has divided the nation as activists across the country condemn the manner in which animals are killed at the hands of humans. However, for meat eaters, the humane slaughter of animals for consumption is largely considered to be a long-standing custom of the food chain.
However, for a group of some 200 pigs who were on their way to a slaughterhouse, they reached an untimely death in Albesa, Lleida as the driver tasked with ensuring their safe delivery veered off a bridge, resulting in a serious fate for all those who were on board.
The incident took place yesterday afternoon (January 9) as a man was travelling down the LP-9221 and lost control of his truck, which swerved off the road and dived over a bridge head first into the Noguera Ribagorçana River.
As the vehicle began to be submerged under the water, witnesses in the area dialled the 112 emergency services hotline requesting for urgent help. Seriously hurt and dazed, the driver had managed to pull himself out of the truck, but due to the nature of his injuries there was nothing he could do to save the animals, who residents report were squealing in horror as they began to drown.
Firefighters and ambulances quickly arrived at the scene in addition to a nearby veterinarian who had rushed over to help the pigs. Hearing sounds of life, with the help of the fire brigade, the very few surviving animals were retrieved from the truck as paramedics attended the driver on the river bank.
As Euro Weekly News understands, the driver has been hospitalised, where personnel state that he is in a serious but stable condition and is receiving round the clock medical care. It is understood that three pigs survived and are now being cared for by a local vet. In addition, local sources indicate that a crane is currently on site to remove the truck from the river.