BRITISH residents in Spain have just a few weeks before they witness, with others, the historic day when the UK effectively departs from the EU.
Some local residents have talked to Euro Weekly News about their concerns and even offered tips at what British National who reside in Spain should be ticking off their check-list before BREXIT takes force.
That said, there have been Brexit deadline dates before – three of them in fact – but this one seems to be set in stone. January 31 will be marked in the history books as the day the UK will no longer be in the EU.
After Britain leaves, its people will still have certain rights – at least for another 11 months, but there are certain thinks to keep in mind as the transition period begins.
During the transition period, Brits in Spain need to ensure that they are indeed a legal resident.
A resident certificate, called "Certificado de Registro de Ciudadano de la Unión" (also known as Certificado de Registro Comunitario) is not the same was a DNI (National identification number) rather a "green certificate." Sometimes credit card size, or A-4 size.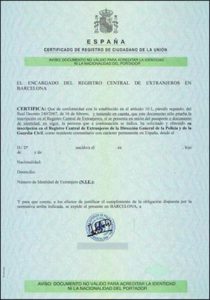 At the moment the transition period ends on December 31st, 2020. It was originally intended as a two-year period during which the UK and the EU could negotiate their future trading agreement, but repeated Brexit delays from the original date of March 29th 2019 has been cut down to just 11 months.
And as John, British National who currently resides in Los Boliches advises in an interview with Euro Weekly News:
"The transition period gives British people some breathing space to sort out their affairs but as Spanish bureaucracy is not exactly famed for its speed, you know, the 'mañana' syndrome and all of that, it would be best not leave everything until the last minute."
As a British National in Spain it's also worth checking out if everything is in order with your health care cover – either through the S1 system if you are a pensioner or, if you are working in Spain, under the Spanish system.
Other documentation to keep in mind is tax returns, car registration and driving licence.
Concluding with further advice offered by John, "If you have any outstanding issues, documents, paperwork, you know all that important stuff that needs to be arranged, it will most certainly be better to do during this transition period than after, as a Third Country Nation." he said.