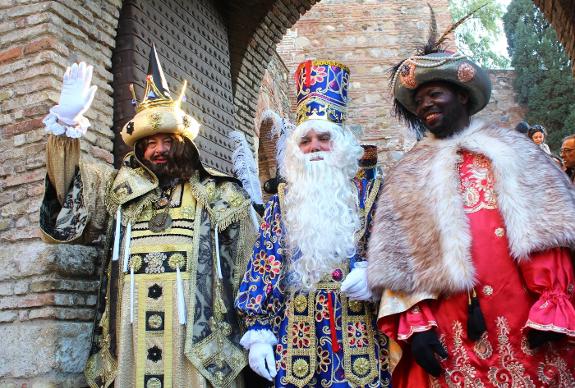 The Three Kings parades was held this evening, the 5th of January across Spain. The Spanish children look forward to the 6th as this is when they open their presents. The festive parade celebrates the visit of Kings Melchior, Caspar, and Baltazar. The Three Kings who brought baby Jesus Gold, Frankincense, and Myrrh to his stable.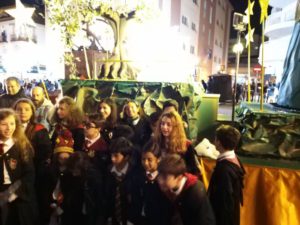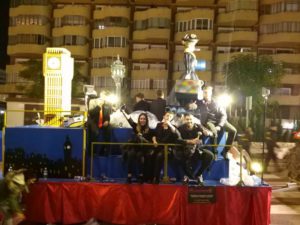 Before the parade started In Fuengirola Spain the police escort provided a 5 minute warning. At the front of the parade were the Three Kings followed by the brightly illuminated floats, each were colourful and themed with well-known large characters from Shrek, Star Wars, Jungle Book, Aladdin, Cinderella, Tinkerbell and many more.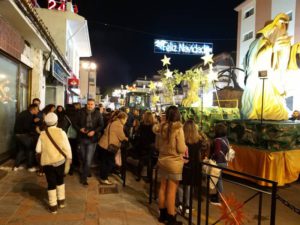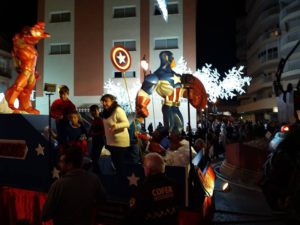 The floats were full of local children having great fun throwing handfuls of sweets into the crowds. The people lining the street covered in showers of sweets. The children not lucky enough to be part of the parade came armed with bags, boxes, and even helmets to collect as many sweets as possible. The sound of the sweets could heard bouncing off the kids helmets as the floats passed by.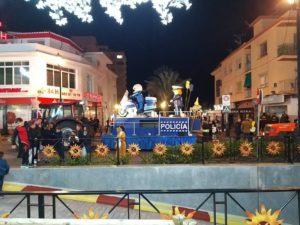 The Three Kings parade lasted in total about five hours from start to finish and the streets were lined on both sides by thousands of people, all happy and smiling. The bars and restaurants enjoyed brisk trade as family's, couples and groups of friends queued up for tapas and drinks and it really wasn't cold tonight, quite pleasant actually.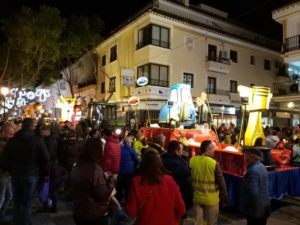 The route was-Mallorca Street, Mijas Avenue, Juan Gómez Avenue "Juanito", Coín Road, Condes de San Isidro Avenue, Matías Avenue Sáenz de Tejada, Ramón y Cajal Avenue and Los Boliches Avenue.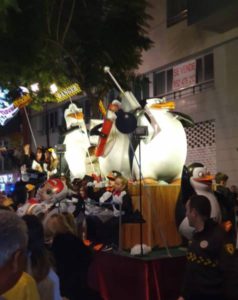 The parade ended up stopping in Los Boliches, Fuengirola with all the characters on the floats waiving vigorously at the crowds, more especially at their families, their faces were beaming as they posed for pictures.
As it pulled to a stop I could see the cleaning services standing by and poised to collect all the inevitable plastic and rubbish generated by such an event as this, poor guys, that's more than a few hours work!