THE National Police have arrested a lone protestor who stood outside the PSOE headquarters in Madrid, Spain today (January 3) hailing 'Viva España.'
Wanting to show his support for national unity, witnesses describe how the man stood calmly outside the socialist party's building holding a makeshift banner that read: 'Never will my heart will stop screaming for the unity of Spain', where he also held a Spanish flag in his hand and a small speaker that softly hummed the national anthem.
Evidently disgruntled of the man's presence, officers soon arrived and forcibly dragged him away in front of reporters and photographers from the Spanish local press. The ardent supporter of Spain looked more than somewhat surprised as he was tightly gripped by the officers, exclaiming his right to demonstrate in front of the political party's headquarters. This didn't change the minds of the officers, as he was pulled away before he was arrested and put behind bars at a local police station.
According to sources from the Superior Police Headquarters, the detainee is a 57-year-old Spanish man who is accused of resisting arrest. Despite the incident being caught on multiple cameras, the police state that officers had asked the man to move away from the entrance of the building as he was obstructing the passage for those entering and leaving the building.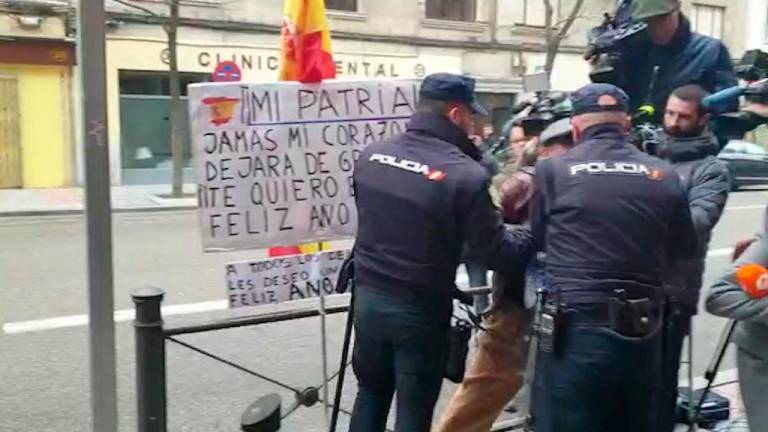 As Euro Weekly News understands, they state the man was asked to move across to the pavement on the opposite side of the road which he did not accept, so officers tried to move him where his resistance led to his arrest.
The footage of the incident has been shared across social media, with many throwing their support behind the protestor, citing that the police used unnecessary and brutal force.
Puedes apedrear sedes de Vox o de Cs, puedes quemar las calles de Barcelona, hacer homenajes a terroristas, pero no digas #VivaEspaña delante de la sede del Psoe, que te apalean.. https://t.co/9UfYpZI5Xp

— Don Rodrigo 🇪🇸 (@RodrigoDdeV13) January 3, 2020