Every animal inside an ape house at a zoo in Germany has died in a fire reportedly caused by New Year's Eve fireworks sparking outrage across Spain.
Krefeld Zoo, which is near the German/ Dutch border, said its "worst fears have become reality" after the overnight blaze, which killed more than 30 animals in total.
A spokesperson for the Zoo posted on Facebook, said: "An unfathomable tragedy hit us shortly after midnight. Our ape building burned down to the foundation."
The deceased animals unfortunately burnt to death consisted of chimpanzees, orangutans and gorillas.
Monkey expert Chris Bradbeer who monthly visits Gibraltar to study monkeys told the Euro Weekly News " I've followed the news breaking through the night, I'm totally devastated, these poor animals would have suffered very badly and as they are the nearest animal to a human being would have suffered the same affects as a human"
Meanwhile Anti firework protester Elsie Powell from Benalmadena Spain said " Once again fireworks bring about a tragic accident involving animals, these things need banning instantly, I'm appalled- animals suffer yearly from fireworks and this is just another sad case, I have written to the Spanish Government many times requesting that Spain takes the lead as a nation and bans them totally, look at Hong Kong this year, they abandoned fireworks for a light show, it has to be the way forward"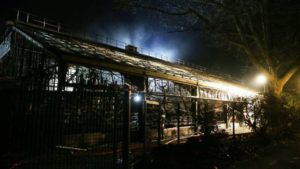 " Spain is a peace loving relaxed country, it can set an example to the rest of the world" she said.
"We see enough mountain fires as it is here, we don't need these dreaded things causing devastation and it's totally cruel to animals" Elsie further said.
Elsie claims she has sent 7 petitions with over 10,000 signatures each time to the people in power but as yet has not received a response, although she ended with " I won't give in I will fight to the end until these wretched things are banned"