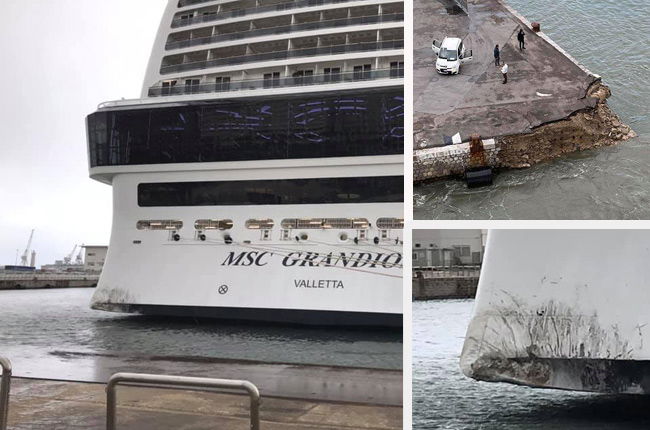 The brand new MSC Grandiosa – which only set sail on its maiden voyage last month – crashed against the pier wall as it approached the docks at Palermo on the Italian island of Sicily.
According to Maritime Bulletin, the accident took place at around 8.30 Monday morning.
At 331 metre (1086ft) long, the MSC Grandiosa boasts to be the second largest ship in the world in terms of capacity and seventh biggest in overall size at 331 metre (1086ft) long, making it a feat for even the most experienced helmsman to try to dock without incident.
In a video of the crash, the enormous 181,541 tonne vessel was seen trying to dock next to the pier.
The ship initially appeared to be in position.
But instead of stopping, the vessel continued to turn until the rear of the ship scraped across the wall of the dock causing the wall to crumble on impact.
It is understood the crash happened during high winds, which can affect big and small ships, fortunately MSC Grandiosa was then able to dock without further incident, though it's not clear whether the crash breached the hull.
The cruise liner has enough room for 6,761 passengers and offers £1,099, 11-day cruises around the Mediterranean that also stops in Lisbon, Barcelona, Marseille.