POLICE have arrested a married couple in Almeria city for drug trafficking and power supply fraud after finding 444 marijuana plants growing in two properties.
One of the properties was the family home, which the two detainees shared with their three young children.
The raids also resulted in the seizure of €18,855 in cash and a top-of-the-range vehicle, and the identification of illegal connections to the electricity network.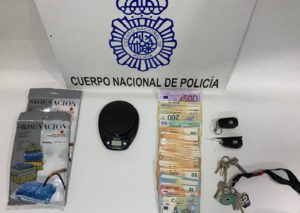 Police said investigations into a property in the Quemadero district begin in September on the basis of suspicions it was being used to cultivate the drug. The windows on the ground floor apartment were always closed and the blinds down, while air-conditioning units were running 24-hours a day. There was also a strong smell of marijuana coming from inside.
The investigation further revealed that the property had in fact been embargoed and is currently in the hands of a bank.
Surveillance and monitoring of the suspects led to the discovery of a second marijuana plantation in one of the rooms of the couple's home in Cañada de San Urbano.
Police named the couple as N.A.E.R and Y.M.G, aged 29 and 32 respectively.