Brit Naturists Holiday abroad- has 9,000 members- and rising!
Forget those high baggage charges and long check in lines, become a Naturist and save a fortune, you just need your phone charger and wallet to take on holiday with you! Naturist societies are flying abroad for winter because their members are getting too cold. Destinations include Spain, Greece, Italy and even Nude cruises are now available.
Throngs (thongs?) of naked Brits are packing away their pigs in blankets and dangley bits so they can strip off in sunnier climes like Spain and Greece. It is part of a drive to capitalise on the increasingly thriving UK ­naturism scene – in spite of our ­erratic wintry weather. British Naturism boss Andrew Welch said: "People don't want to be outside naked in this weather. " Naturism is clearly a much different experience in the winter months. Because people don't want to be outside and naked, we organise hotel weekends.
"This involves hiring a hotel and people can just walk around nude at their leisure.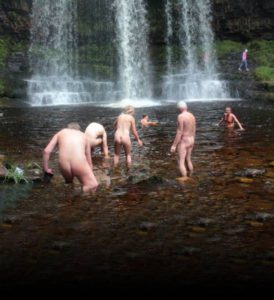 "We also put on holidays abroad – who wouldn't want to be sunning themselves in warmer climes rather than suffering in the dreary British weather?
"Often we have to organise extra trips because they become so oversubscribed."
Andrew also claimed that the odd image of naturists tucking into their Christmas dinner in the buff is a myth. Personally I wouldn't mind hanging out with them for a while, I know the first week would be the hardest but after that…
TW