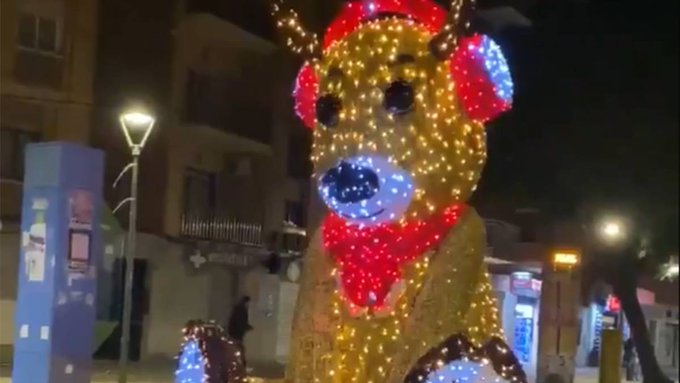 WITH the arrival of Christmas, municipalities all over Spain have painstakingly gone about decorating their towns with lights and decorations to bring Christmas cheer to the community.
Trees, lights, Christmas markets and huge figures shine to remind everyone of the festive nature of the holiday season.
In one Spanish town, Viladecans, the star decoration is a giant mechanic reindeer adorned with lights and with built-in loudspeakers to sing Christmas carols and deliver Christmas messages.
However, this past weekend, local residents have observed a change to the repertoire. Instead of the habitual "Merry Christmas" and "Ho ho ho" they have been hearing phrases projected out of the reindeer's speaker like "Viva España", (Hail Spain) "España grande" (Spain is Great).
It seems someone hacked the dummy and managed to change the recorded messages that were being projected out of the speakers. Unfortunately some of the additional greetings included insults and racist phrases.
Viladecans' city council, a town of 66,000 inhabitants near Barcelona, only became aware of manipulated Christmas decoration when videos of the bright reindeer proclaiming patriotic phrases and singing the Spanish national anthem, became viral.
Euro Weely News has observed how Twitter user named Antonio Sanchez posted the original videos of the reindeer on his profile. Mr Sanchez was then believed to be responsible for the manipulation of the recordings, something he has denied.
El pasado fin de semana una instalación luminosa, que representa a un reno sentado, fue alterada para que profiriera expresiones como "muerte a los rojos" o "putos moros" al paso de los visitantes a Viladecans, en España @TienesTipex pic.twitter.com/Bs3t2BYv4v

— RT en Español (@ActualidadRT) December 23, 2019