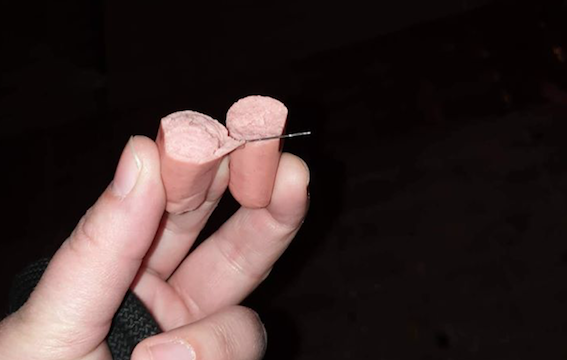 RESIDENTS from Costa del Sol's Marbella, Spain have voiced their concern as sausages spiked with needles were laid out onto the streets.
The sadistic traps were revealed on the popular 'Marbella Se Queja' Facebook group, where an individual posted a picture of the dangerous 'treats' after making the shock discovery on Plaza del Bote.
Gaining a barrage of comments, many residents slammed the cruel traps and vowed to catch whoever was responsible.
One said: "To those who are doing this, we will not stop going there with our dogs and we will continue to monitor every corner before arriving. You better hope we do not catch you, because we will make you eat them all."
Another commented: "Install a camera and we will find the person who does this. We will denounce you to the police" with another adding "to whoever did this, when we find you, you will be punished."
As Euro Weekly News understands, anyone who has information on the traps is urged to contact the police immediately. Dog owners are also advised to be extra careful in the area.