BOOZY Brits brawled in the streets last night as Black Eye Friday festive mayhem hit the nation.
Greater Manchester are looking for three men after police were attacked in a 'Mad Friday' pub brawl
A female officer was punched, dragged to the floor, and stamped on and her male colleague was knocked unconscious in a 'disgusting' attack in Middleton, Rochdale, Greater Manchester. Dozens of revellers were spotted arguing, brawling, and stumbling in city streets across the UK last night as they made the most of the last weekend before Christmas.The pair were on their way to deal with another incident early today when they spotted a large group of men fighting near a pub in Long Street. They stopped to break up the ruckus and were assaulted.
The male officer was punched in the head, knocking him unconscious. The female officer was also punched, dragged to the floor and then stamped on. Both officers were taken to hospital but have since been discharged. The offenders fled the scene after the assault. The incident happened at 2.35am. "Although this happened in the early hours, it was outside a pub at what can be a busy junction so we're appealing for anyone with information which will assist us with our investigation to contact us immediately".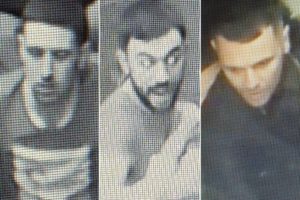 No arrests have yet been made.
Detective Sergeant Tim O'Callaghan, of GMP's Rochdale division, said: "This is a disgusting way to treat police officers, who spend their days and nights trying to keep the people of Greater Manchester safe.
"We are providing welfare support to the two officers who were attacked after bravely trying to intervene in a large fight and keep the peace.
"We will not tolerate this kind of behaviour and are 100 per cent committed to bringing those responsible to justice.
Some partygoers were seen smiling as they made their way home in festive fancy dress but others seemed worse for wear and needed a helping hand from friends to make it to the bus or taxi.
Police stepped in and broke up fights in Manchester and Cardiff, officers in Newcastle were seen assisting a few people who'd had one drink too many. Men and women were pictured sheltering their hair from the rain, vomiting in the road, collapsed in the street and fighting each other in cities across the country.