IN A scene straight out of a cops and robbers show, police caught ram-raiders in the act in a hit on an Almeria city shopping centre.
The gang had repeatedly driven a stolen vehicle into the emergency doors of the Carrefour commercial centre until they managed to smash though them. They then used picks, clubs and screwdrivers to break the locks on two mobile phone outlets, grabbing top-of-the-range phones and electronic devices.
Police, alerted by the centre's security guards, got there just as the four thieves were about to make a getaway, blocking both their escape routes. One of the robbers' cars went straight into a patrol vehicle, leaving both unusable.
Officers managed to nab two of the gang, who are being held behind bars on charges of belonging to a criminal organisation, using a stolen vehicle, robbery with forced entry and an attack on a figure of authority.
Inside the car the duo were driving police found a stash of latest generation mobiles, some of which were due to be picked up by customers, three routers, two large screwdrivers and a pick.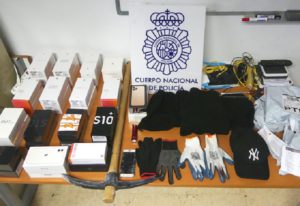 According to police the foursome belonged to an organised criminal gang with a long police record specialising in robberies from mobile phone shops all over the country. They steal specific models of cars which they use to ram their way into commercial premises doors or windows, which they then abandon, and make their escape in a second high-speed vehicle.
On this occasion the robbers had got their hands on a luxury car in the Pinto neighbourhood of the Spanish capital, and went from there to Linares in Jaen, police said. There they unsuccessfully tried to force their way into a commercial centre, and made off when they were surprised by security guards.
Pressing on to Almeria, they nicked a car in Nijar after forcing the door lock, and from there headed to the provincial capital.
Police said the investigation remains open and they have not ruled out further arrests.