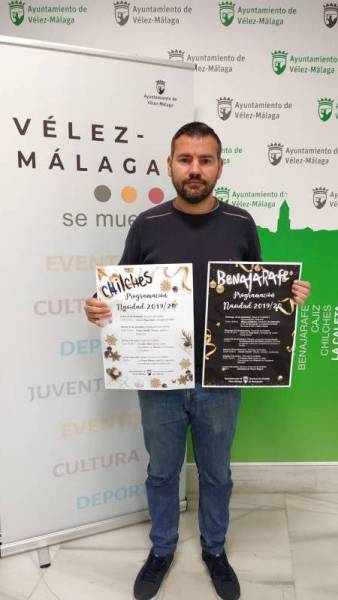 DEPUTY mayor of Benajarafe and Chilches, J. Hipólito Gómez, has detailed the extensive program of Christmas 2019/2020, designed for all audiences that will culminate in both locations with the Three Kings parade on January 6.
Gómez, said that "from the current government team we continue enhancing the celebration of activities in all municipal territories so that residents and visitors can enjoy these intimate dates as a family ".
Gómez detailed the activities of the programming of both locations, with the first of them in Benajarafe, on Sunday, December 15, with the 'Day of Migas' in the courtyard of the church. This day will be celebrated with the performances of choirs and the Dance Academy 'Tacones al Aire'. The surrounding parking area will be set up to hold a children's party where an inflatable castle will also be installed. On December 22, the Tenencia de Alcaldía de Benajarafe will again be the stage where a children's party is held and where Santa Claus will collect the letters of the little ones. The next day, on December 23, the Benajarafe Sports Pavilion will host a 'Christmas Storytelling', where entry will be the contribution of a toy to be donated to Cáritas. For a full list of the activities please visit www.velezmalaga.es .